Wednesday, March 28, 2007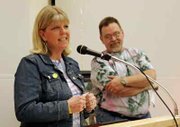 MONMOUTH/INDEPENDENCE -- It was a simple instruction from his high school basketball coach that eventually became a sort of code to live by, said Michael Ainsworth.
"He would tell us, 'When you're in public or another city, you're representing this community,'" Ainsworth said during a speech at the Community Award Banquet at Western Oregon University on March 22. "Young people take great pride in that."
Evidently, the 300 or so local residents who crowded into the Werner Center felt that Ainsworth exemplified the motto and Monmouth and Independence.
Ainsworth, the announcer at Central High athletic events, a key figure in fundraising efforts for local sports and youth programs, and a lifelong MI resident, received the Distinguished Service award.
"This community is only as good as we make it," Ainsworth said, challenging people to volunteer toward any good cause. "Give of yourself to make it an even better community."
Ainsworth was one of several individuals, teachers and students honored for their contributions to the cities and schools during the 46th edition of the event, which is hosted by the MI Chamber of Commerce.
Jerry and Joy Hoffman were named First Citizens for their long list of civic involvement. Jerry has been a member of Independence city government for several years and is a founding member of the Hop and Heritage Festival.
Joy helped create the Independence Elementary School Read-a-thon and is part of the popular Moms-4-Reading program. The couple also coaches youth sports and annually hosts foreign exchange students.
"You invited us tonight to speak to 300 of our closest friends," Jerry Hoffman said. And "this is a rare opportunity to be able to speak to all the future movers and shakers in our community.
"We can accomplish great things," he continued. "We're not a little community anymore ... the two (population) signs together say we're at almost 18,000."
The Central Education Association honored Dale Cutsforth and Kay Graven as its secondary and primary teachers of the year, respectively. Cutsforth coached for several years at Talmadge Middle School and Central High and is currently the middle school's athletic director.
Graven is a Title I reading director and teacher at Henry Hill Elementary School and has been a part of Central School District for 32 years. Helen Ames, last year's primary school winner, ribbed Graven by noting three of the Central schools Graven has taught at -- Campus, Oak Grove and Eola elementary schools -- are now closed.
"Henry Hill, you're safe," Graven said. "I'm going before you do."
Three local businesses were recognized at the event. J. Bella's Ristaurante in Independence, one of the area's few upscale dining establishments, was named New Business of the Year. The Rose and Ram Knit Shop, also in Independence, was given Small Business of the Year honors for its donations of materials and expertise for local activities.
Partnerships In Community Living (PCL) in Monmouth, which provides employment opportunities for individuals with mental disabilities through residential and business programs, was named Large Business of the Year.
Founded 20 years ago, PCL currently has more than 400 employees and has working partnerships with the school district, YMCA Women's Shelter and other organizations.
"Our agency's mission is to enhance the quality of life of the people we serve," said Zellee Allen, PLC business manager. "But we also like to think an important role is helping our community, too."
Finally, 11 students from the district and Western Oregon University accepted Student of the Year honors. Nominated by their teachers, they are:
Mandy Desmarteau of Independence Elementary School; Emma Nicassio of Ash Creek Middle School; Aliyah Formen of Monmouth Elementary School; Ashley Webb of Bridgeport Elementary School; Sean Blair of Pedee Elementary School; Arlene Trujillo of Henry Hill Elementary School; Maggie Carrillo and Chris Hinds of Talmadge Middle School; Shannin MacCarthy of Central High; Missy Stephenson of Mid-Valley Christian Academy; and Melissa Nelson and Tina Trinh of WOU.