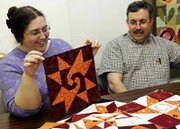 DALLAS -- On April 6 Rachel Greco, owner of Grandma's Attic, told her $5 Quilt Club about how her husband, Stephen, sneaked a bolt of Virginia Tech-themed fabric into a wholesale purchase she had just made.
Greco and the women in her class worked to compile a list of things they could make for Stephen out of the orange and maroon "Hokies" fabric.
"Stephen is a Virginia Tech Alum. He got all of his degrees there ... but now we live in Oregon. I had no idea what I was going to do with this stuff," Greco said.
Most people had never heard of Virginia Tech.
Eleven days later Seung-Hui Cho went on the shooting rampage that killed 33 people at the Blacksburg, Va., campus.
"I was shocked ... actually, shocked doesn't even encompass what I was feeling," Stephen Greco said.
"I spent 14 years studying and teaching on that campus. I met Rachel there. Two of our kids were born there."
From the moment Greco's mother called to say a student had been killed at Virginia Tech, there was no pulling back from the unfolding coverage.
"We had the news on all day, and it just kept getting worse and worse. We were listening to the radio coverage on our way into town and when they started talking about Norris Hall - 211 Norris Hall - Stephen nearly drove off the road. He used to teach in that exact room," Rachel said.
In the proceeding days, that bolt of garish fabric Stephen had slipped into Greco's cart as a joke had new significance for the couple. Greco knew what she was going to do with it.
First she called her supplier and ordered every bolt of Virginia Tech Fabric they had. She sent her son to pick them up in Portland. Then she went online.
Greco has a popular internet companion store to Grandma's Attic where people from all over the world can order her specialty fabrics. She also keeps a blog, where she updates her online quilting community about the things that are happening in her little town.
She posted her story. She talked about how she and Stephen had met while she was running a secretarial business near the Virginia Tech campus. She talked about her memories of the college marching band practicing in the streets and how vibrant and peaceful Blacksburg normally is.
"It (the news coverage) really struck me because the names of places that I knew, that I had strong memories of, kept coming up. I could see it all happening as if I was right there. That place will never feel exactly the same for me," Stephen said.
"I want to go back even more now. I will go back."
In her blog, Rachel asked for quilted blocks done in Virginia Tech's colors. The blocks could be in any style, as long as they were in Chicago Maroon and Burnt Orange. No other colors.
She told her friends if they wanted a swatch of the Virginia Tech fabric, she would mail it to them free of charge. The only thing they had to do was get the finished block back to Grandma's Attic by June 2, 2007.
"The response was immediate and overwhelming ... I've heard from people in almost every state, and from Australia and England. And the most amazing thing is the stories people are sharing with me and Stephen ... these quilts will be an amazing memorial for the college," Rachel said.
Every square will be labeled with its maker's name and message. Then the squares will be sewn together and quilted by master quilters in this area. It'll be a sort of cyber quilting bee.
"Quilts are two things: They are a hug you can give over a great distance, and they are a historical record," Rachel said.
For more on the Virginia Tech Memorial Quilt Project, visit grandmasatticquilting.blogspot.com or call 503-623-0451.