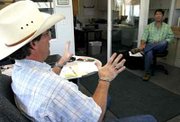 RICKREALL -- Louie Kazemier has seen the future and has been unwavering in his efforts to embrace it.
Kazemier, owner of Rickreall Dairy, has completed a construction timeline for his energy-making plant, called a "dairy digester," after more than five years of planning and testing.
"We should have it up, running, and producing gas and electricity no later than November of this year," Kazemier said.
Kazemier has been working with project planner RealEnergy LLC of Yountville, Calif. RealEnergy CEO Kevin Best said he and his director of operations, Robin Luke, are currently in negotiations with NW Natural Gas for the utility to buy extra purified methane gas, which would be provided directly into the gas lines running past Kazemier's dairy.
"They (NW Natural) haven't committed yet, but they are very interested," Luke said. "Nothing like this has ever been done in this area. We are breaking into new territory here, and that can be kind of intimidating."
Luke said she has invited NW Natural executives to Sweden "to see how plants like this operate there, so they can get better idea of how safe and efficient it is. They haven't responded yet."
Dairy digesters have been used in Europe for years. Mostly they produce electricity, with the methane gas going to waste.
However, a few digesters, like the one being planned for Rickreall, not only create methane gas to run a generator for electric power, but also scrub that gas clean and pump it into natural gas lines to be used by the general public.
In the case of the Rickreall plant, Best and Kazemier said they would prefer to see the gas pumped through NW Natural's line to Salem Hospital, where it could collect in a substation and be used to heat, cool and power the entire hospital.
"We've spoken to them and they are very interested in the project and in the prospect of becoming a green building," Best said. The timing, however, isn't good right now. "They are in the middle of so many other changes ... but they plan to revisit it in a few years when things settle down."
Best said he is still analyzing the power line infrastructure to determine if the dairy can send electricity onto the Pacific Power grid.
"Those are really small lines out their and they may not be able to handle the amount of electricity we would generate," he said. "If they can't, that would mean rerunning lines from here all the way to Salem. That would be a deal breaker."
Luke explained that Rickreall Dairy is breaking new ground in this area, and it always takes time to get people to think about new ways of doing things. But she is strong in her belief that green energy like the digester will produce is the world's future.
Kazemier has made a considerable investment into the project - the total may reach $6 million. Much of that was raised by loans from the U.S. Department of Energy.
But even if he isn't able to sell his methane power directly on the grid, he is creating several positive outcomes. He will decrease his own rising energy costs at the dairy, and can trade excess power for "renewable energy credits" which he can use himself or sell to other companies.
In addition, he will cut his farm's methane pollution by more than 80 percent. "It will help with the odor, and if we get it up and running the way we want, it will be extremely efficient as well," Kazemier said.
And then there is his contribution to the local economy. Area contractors are building the plant, and once it is running it will create three full-time jobs.
Kazemier also plans to add a reverse osmosis machine that pulls the nitrogen and phosphorous out of the liquid left in the tanks. He'll then sell that product to organic nurseries to use in place of fertilizer.
The manure water will be clean once it has been pumped out of his lagoon into the digester tanks and run through the reverse osmosis machine.
"It's going to literally use every nutrient in this stuff that would normally go into the lagoon by putting it out onto my fields," Kazemier said.
Local fruit packing plants and Kettle Chips of Salem have contacted Kazemier about providing him with byproducts from their processing. Kazemier said adding some sugar to the tanks drives up the methane production considerably.
According to the Department of Energy, the biomass industry is already one of the nation's most important energy resources. Biomass is an umbrella term that describes such processes as diary digesters and ethanol production plants.