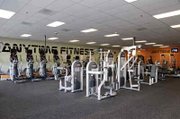 DALLAS -- A new fitness club offering 24-hour accessibility for its members has opened in Dallas.
Anytime Fitness, part of a nationwide franchise of stores, opened its doors in September.
Located in the old Dollar Tree location on East Ellendale, the gym has state-of-the-art equipment, showers, changing rooms and on site trainers. Management has also employed a nutritional therapist to help people form and stick to a fitness plan.
The owners, Robin and John Williams, realized a while ago that Dallas was in need of a 24-hour health club.
"They just kept hearing people say how nice it would be if there was a place to work out whenever you needed to," sales manager Tyler Williams said.
"So far we've been received really well. People like the flexibility the 24-hour schedule offers."
Anytime Fitness is not staffed around the clock. Rather, members are given special electronic keys that allow them access to the facility after the staff has gone home for the evening.
During the day, staff members are available to answer questions and teach classes.
"Our goal is to offer a safe, clean, convenient place for people to come workout," Williams said.
There is nothing elaborate about the facility. It's a straightforward gym with weight and cardio machines.
There is no on site child care or play room.
The facility isn't large, but is efficiently laid out with everything a person needs for a full body workout.
Every new member gets a free consultation with a personal trainer. During the consultation, new members are taught how to properly use each machine and are assisted in planning an initial workout schedule.
If a person wants, he or she can schedule further one-on-one sessions with trainers Desra Hitz and Tracy Gannaway. If one those sessions don't fit a member's budget, both trainers offer group classes that focus on circuit training.
For more information or rates: Anytime Fitness at 503-623-1131.