Tuesday, October 23, 2007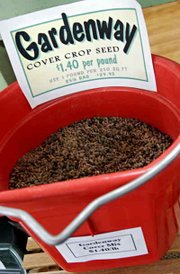 POLK COUNTY -- Ah, the familiar signs of fall are upon us. The cooler mornings, the darker evenings and the trees dazzling us with their changing colors. And then there is my personal favorite offering of fall: the lovely smell of rotten tomatoes coming from my vegetable garden as it is pelted by the autumn rain.
Yes, it's time to get that garden ready for winter.
If you're like me, you've put it off each of the past several weekends, therefore sacrificing what vegetables and fall blooms you had left to the Oregon rains and watching them disintegrate into a slimy ooze atop your soil.
This, of course makes me want to put off for yet another weekend the chores of scooping up melting tomato flesh and wrestling with tomato cages to free the plants, which are just going to splatter all over me.
But I know it must be done. I also know that once started, it can be quite therapeutic to rip zucchinis out of the ground and chop the tops off those spent perennials, It can really flush out the frustrations.
The end of the growing season is actually an optimal time to work in your garden. It is also a great time to hit your local garden centers and pick up discounted perennials and shrubs.
Yes, I realize that adds to the work we've already put off, but getting those plants in the ground now gives them a head start for next season. They'll have much better bloom growth.
A few key things are important in preparing your raised beds and garden for winter.
The easiest is to go thru the garden and pull up all your spent annuals and vegetables. If you're a seed collector, keep a couple of dry envelopes with you to collect seeds. If you're not a collector, you can cut off the seed heads and leave them for the birds.
Second, cut back all of your late-flowering perennials. Go ahead, just give them a good whack, right down to a couple inches from the base. (This is where the therapy part comes into play.)
While whacking away, you will want to prune your late summer and fall blooming shrubs before the icy weather hits. If you don't do it now, you will have to wait until mid-February to prune.
While some plants may still be blooming, you eventually will want to cut the growth on your tuber plants (such as dahlias and gladiolus) and dig up the tubers. Store them in a dark, dry, and cool environment.
Once you're done tidying up, there is one last chore that's important to keep your soil healthy and free from erosion - and that is to mulch.
Mulch helps suppress weeds while regulating soil temperature to protect your perennials. It keeps your soil a good quality and texture to be ready for planting next spring.
Mulching is not just a winter task - is one you will want to continue through the growing season for many of the same benefits. But this pre-winter mulching is a vital one.
Mulch comes in a variety of forms. Organic materials such as grass clippings, sawdust, autumn leaves, and straw make great mulches. (About straw: make sure you are using straw and not hay as a mulch, unless you want a lush garden of weeds next spring.)
With your mulch of choice in hand lay down two to four inches around, but not directly on, the plants.
Another great way to mulch is to plant a cover crop. I do this in my raised beds where it is easy to contain and works great at not allowing my soil to turn into cement blocks come spring. Cover crops are usually a mix of legumes and seeds.
Legumes, with their long roots can help to keep the soil loose and add nitrogen to it. Other seeds such as crimson clover and rye grass can also be planted.
All cover crops are annuals and just need to be turned over into the soil once it is workable and before they go to seed. The Old Mill Feed and Garden in Dallas, for instance, sells a great cover crop seed mix for $1.40 a pound.
They can help you figure out the square footage of your garden; you just sprinkle it over your soil surface and rake in.
The best part of all of this work is during it all you can envision the beautiful garden you will create next year and know that you have a head start on it.
So off I go, soon to be covered in "eau de soggy vegetable" scent - but knowing it will all be worth it.