Wednesday, October 31, 2007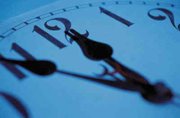 If you think it's getting dark too early now, just wait until this weekend.
Daylight Saving Time ends at 2 a.m. Sunday. Most people will reset their clocks when they go to bed Saturday night, following the old adage of "spring forward, fall back" and gaining an extra hour of sleep.
We'll be on Pacific Standard Time until March 9. Days will grow increasingly shorter until Dec. 22, when the sun will set over Polk County at 4:33 in the afternoon.