Wednesday, April 30, 2008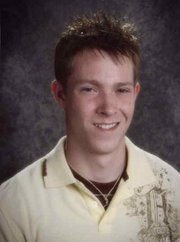 DALLAS - Tears of pain and sorrow have turned to tears of joy and optimism for Cathy Stewart and her family.
Parker Stewart appears headed on the road to recovery following a recent freak accident. The 17-year-old Dallas High School junior was retrieving his discus during practice April 10 at Gallaspy Field when he was hit in the head by a teammate's discus. The throw fractured his skull and cut into his brain.
The accident left the honor student and Eagle Scout comatose in a hospital bed for more than two weeks. But Parker has shown signs of steady improvement in recent days, and on Monday spoke his first words since the accident.
"His first words were `Mom, I want to go home,'" said Cathy. "He's all there, but he's so very tired and weak."
For two weeks, Parker lay in Salem Hospital's intensive care unit in an induced coma that allowed his head swelling to decrease and his condition to stabilize. Parker opened his eyes on April 24, giving his mother, father, four siblings and dozens of friends hope that he will recover.
"It's been really, really nice," Cathy said. "It's been a hard couple of weeks just waiting and not knowing. He has been steadily improving much faster than the doctor's expected."
This week, Parker has been removed from most of his life support connections other than a feeding tube. He has shown signs of getting stronger by sitting up on the edge of the bed. Doctors are trying to assess memory loss, speech damage and other functions that may have been affected by the discus to the head.
"He wanted to go to state this year," said the mother of the son who threw the discus 144 feet, 2 inches just a day before the accident.
Meanwhile, hospital costs are mounting for the uninsured family. The Stewarts had purchased the required school sports insurance when Parker signed up for sports, but that coverage is limited to about $25,000.
"That might have paid for about the first three days here," Cathy said.
Cathy and her husband, Britt, are self-employed painters who have operated a small business for the past 12 years, Granite Trust. Like most small business owners, they can't afford to pay for insurance and put a roof over the heads of their five children.
So, while Cathy watches and waits with Parker, Britt goes to work each day, hoping to pay mounting bills.
Cathy said the family has no intention of suing the school or Parker's teammate and friend, Logan Stewart (no relation), who threw the errant discus. The two Stewart families are friends who attend the same church.
"It was an accident. It wasn't done on purpose. He feels terrible about it," Cathy said of Logan Stewart.
Parker's coach, Brodie Unger, and others have said the accident has been a traumatic event for the team and the entire student body at Dallas High School, in addition to the Stewart family.
"Our thoughts and prayers are with them," Unger said.
-
How to help
Friends and family of the Stewarts are lending their emotional support, but Stan Butterfield, a Dallas attorney, hopes to step up financial support by opening a bank account for the family. Those who want to make donations to help pay Parker's medical bills can send the donation to the Parker Stewart Family Fund, 791 Main St., Dallas, OR 97338. Donations can also be made in person at Bank of America, as long as the name of the account is referenced.