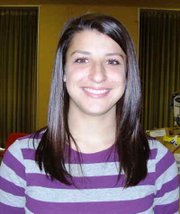 DALLAS -- Ellen Holton of Dallas has been selected by the Dallas Rotary Club as its outbound exchange student for 2008-09.
Her country of choice for the exchange program is Switzerland.
Holton plans to attend high school in Switzerland, immerse herself into Swiss culture, and learn a new language. She also desires to broaden her perspective of the world community.
Holton chose Switzerland because of her interest in the country and because of her friendship and experiences with Carolin, who was Dallas Rotary's inbound student from Switzerland during the 2007-08 school year. Both attended Dallas High, where they went to class together, played on the tennis team, and participated in other activities.
Rotary Youth Exchange is part of Rotary's primary goal of world peace -- by developing understanding and friendship with people of other cultures and countries, it is much easier to live in peace with them.
Holton has wanted to be an exchange student from the time she first heard about the program at school, but she was too young at that time.
She leaves Aug. 7 for Switzerland, where she will stay for about 11 months.