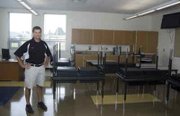 INDEPENDENCE -- Students at orientation this month will get a first look at the new addition to Talmadge Middle School.
The administration has opened the building while installation of furniture and equipment is wrapping up the $4.6 million construction project.
The addition, funded by a Central School District bond passed in 2006 to ease school overcrowding, provides 12 new classrooms to accommodate the 250 sixth-graders who will now walk the halls.
Seventh- and eighth-graders endured construction during the 2007-08 school year as groundbreaking was last September. Mike Maloney, the bond program manager, said he believes the students will be pleased with the outcome.
"They're going to think it's way cool," Maloney said.
Despite the noise and activity, Maloney said math classes were able to use the construction as a learning tool.
Principal Perry LaBounty said the new addition is beautiful and full of light. The classrooms are good sized, and now have state-of-the-art technology.
"(The addition) looks like it belongs," Maloney said. "It is consistent with the current campus."
Maloney said teachers should be happy with their new overhead digital projectors, smartboards and flat-panel TVs.
The project only cost $4.6 million of the $6 million bond, and the leftover money will fund additional renovations to the existing building. Maloney said the old home economics room is being converted into a science room and they are planning to improve the serving line in the cafeteria as well as electrical outlets in the computer room.
These projects will occur during the coming school year or over school vacation periods such as winter break and spring break.
LaBounty said the new addition allows for some future growth, and the district will be fine if the current trends continue for a while. He noted that this group of sixth-graders is the largest class in the district.
Residents have been taking walking tours through the school on their own accord, but the grand opening has been set for Monday, Aug. 18, at 5:30 p.m.
By that time, LaBounty said he hopes everything will be polished and ready.