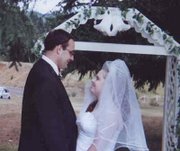 Smith-Godeaux
Megan Lynn Smith of Keizer and Jacob Charles Godeaux of Dallas were married July 5 in an outdoor wedding at the home of Chuck and Doreen Godeaux in Dallas.
The bride is the daughter of Don and Robin Smith of Keizer. The groom is the son of Chuck and Doreen Godeaux.
Pastor Jerry Franz officiated the ceremony.
Maid of honor was Samantha Smith. The bridesmaid was Bobbie Haunhorst.
Flower girl was Chlowee Pendleton and ring bearer was Aden Godeaux.
The best men were Jamie Godeaux and Travis Godeaux.
Megan attended NcNary High School in Keizer and graduated in 2002. She attended Chemeketa Community College.
Jacob, a 1999 graduate of North Salem High School, attended Chemeketa Community College and Western Oregon University. He served a four-year term of duty in the U.S. Marine Corp.
Megan and Jacob are field representatives for Comcast.
The newlyweds honeymooned in Astoria and make their home in Keizer.