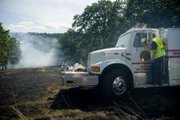 POLK COUNTY -- A grass fire put a home in danger Aug. 12 and burned 25 acres near Rickreall.
The SW Polk Rural Fire Protection District responded to a dispatch around 1 p.m. in the 11000 block of Smithfield Road, north of Rickreall and west of Highway 99W.
A report from the Dallas Fire Department said the fire was moving at a slow speed along grass stubble toward an uncut grass field. The fire also was moving toward a house.
The fire near the home was extinguished and apparatus from other districts arrived to help extinguish the fire moving in the field.
After putting the fire out, firefighters extinguished hot spots and watched the area to make sure wind gusts didn't create flareups.
No firefighters or civilian personnel were reported injured.
The cause of the fire is believed to be related to farming machinery that was stacking hay bales in the field.
Between 35 and 40 firefighters from Polk County, Sheridan, Amity, the Oregon Department of Forestry and Salem responded to the fire.