Tuesday, December 9, 2008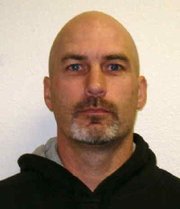 POLK COUNTY -- A warrant has been issued for the arrest of Michael Bowers, a Siletz man who is accused of attempted rape, sodomy, kidnapping, felon in possession of a weapon, and assault in connection with an incident in rural Polk County last month.
The Polk County Sheriff's Office and the Lincoln County Sheriff's Office responded to a report Nov. 14 of a kidnapping and sexual assault in the Green Mountain area, a rural part of Southwest Polk County.
Bowers lives in and frequents the Siletz area. He is a registered sex offender and has been under supervision by the Lincoln County Parole and Probation Department.
Bowers is 41 years old, 5 feet 8 inches and 200 pounds.
According to sheriff's department officials, Bowers should be considered armed and dangerous. If anyone knows the location of Bowers, they are asked to contact Det. Mark Garton at the Polk County Sheriff's Office, 503-623-9251, or call 9-1-1.