Tuesday, February 19, 2008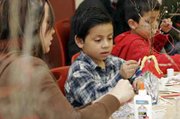 INDEPENDENCE - Juanita Montes-Romero hadn't been in the United States long before starting elementary school in Cottage Grove.
And it frightened her.
Most of the faces in her classes were white, something she had been unaccustomed to in her home of San Ignacio, in the Mexican state of Guanajuato. Her English was limited and her teachers weren't versed in her language.
"I cried," said Montes-Romero, now 19. "I think there were four or five Latinos, tops, in my grade - and when I spoke Spanish, they would look at me like I was crazy."
But between working with bilingual teachers and practicing at home with vocabulary books her father brought her, Montes-Romero managed to improve her speaking skills quickly.
The early help made a world of difference in helping her adjust, she said.
These days, the Western Oregon University sophomore and several classmates try to do the same by coordinating and running educational programming at Colonia Amistad in Independence.
The undergraduates provide tutoring and supervise after-school games and recreation for elementary and middle school students on Mondays and Wednesdays in the housing development's community center.
And every Tuesday and Thursday, they volunteer time with preschool- and kindergarten-age children with basic literacy and arts and crafts activities.
About 40 kids from the complex are involved in the free program. Students like Montes-Romero, meanwhile, consider it an opportunity to get experience for careers or simply to help a population in need.
"When I first came (to Colonia Amistad), all the children were like strangers, but now they know each other," she said. "And hearing them call you `teacher' ... I like the feeling."
Colonia Amistad is operated by the Farmworker Housing Development Corporation (FHDC), which runs low-income housing for agricultural laborers and families.
Part of the organization's mission is to pair housing options with social and educational offerings, said Jaime Arredondo, FHDC community organizer.
Other FHDC-owned complexes in Salem and Woodburn run family literacy projects - the preschool program - with their own part-time staff and student volunteers from Chemeketa Community College and Willamette University.
Polk County Commission for Children and Families has provided funding to expand the program at Colonia Amistad, Arredondo said.
"For a lot of migrant adults, they see children as the future and the top priority," he said, "because many of them think it's too late for them to pursue an education - which isn't necessarily true."
Residents are eager to take part because their children would simply be sitting at home if not in some sort of Head Start program, he added.
Western administrators, meanwhile, had established last fall an initiative to recruit and better prepare bilingual teachers, said Karie Mize, an assistant professor of education.
Representatives of FHDC contacted the university about volunteer opportunities. About a dozen - some who speak Spanish, and others who don't - now take part.
Mize said Colonia officials have allowed the students a fair amount of autonomy in running the literacy program and the after-school mentor component.
"It's not really something where one person is in charge," she said. "It's been more, `can you help us with this?'"
"It fits in perfectly with what (the university) is trying to do."
Colonia resident Damiana Venegas accompanies her 6-year-old son, Luis, during the weekly activities. She said it has helped Luis with his Spanish literacy, which in turn, has improved his English.
"It's important for them to read at an early age and not get behind," she said.
Mayra Colin-Carrillo, a junior at Western, said she enjoys preparing the toddlers for a formal classroom setting, and knows she is aiding them with language skills.
Colin-Carrillo, who grew up in a migrant household in Eastern Oregon, said she spoke little English when she entered first grade.
"Kids in class would look at me different because I didn't pronounce words the way they did," Colin-Carrillo said. "I guess I'm here teaching because I don't want these kids to feel the way I felt."
The Colonia Amistad after-school program for elementary and middle school students is free and open to youths who are and aren't residents of the complex.
For more information: Juan Venegas at 503-838-0644.