Wednesday, January 23, 2008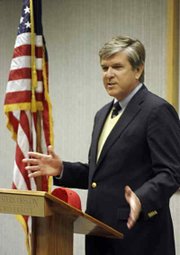 MONMOUTH - Speaking before a crowd of about 30 people gathered in Western Oregon University's nursing school last week, U.S. Sen. Gordon Smith took a moment to address a small group of future students of the program.
"Our population is aging," Smith said. "And as a result of that, there's a nursing shortage ... and I've got to tell you, there's a job out there for you."
Smith visited the campus on Friday to tour the building and announce that the program will receive $200,000 in federal funding.
Smith worked with Sen. Ron Wyden and Rep. Darlene Hooley to have the money included in an omnibus appropriation bill passed by Congress in December.
The money will pay for technology and equipment in the new program's simulation laboratory, which will utilize automated mannequins that simulate a range of patient health conditions.
"We salute you for pursuing a career in nursing," Smith said.
The nursing program, formed through a partnership between Western and Oregon Health Sciences University, is scheduled to enroll 27 students this fall.
Mark Weiss, WOU vice president of finance and administration, said the enrollment limit for the discipline would be bumped to about 80 by 2011.
Design work on the program's building, the former Oregon Police Academy, is nearly complete. The state provided $4.5 million during the last legislative session for the project.
When finished, the 9,000-square-foot second floor will house computer and skills labs, office and storage space. Interior and exterior construction is slated to begin in March and will conclude by September.
John Minahan, Western President, said that the work is actually ahead of schedule because the building is fairly modern - it was built in the mid-1980s - in good physical condition and is already wired with fiber-optic cable.
Weiss said the program also recently received $50,000 in private donations. The college still needs an additional $250,000 for the simulation lab and will be applying for grant dollars from private foundations in the next few months.