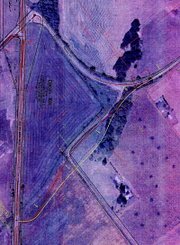 POLK COUNTY -- Something needs to be done to make the Perrydale Road interchange more safe for drivers, but residents believe the Oregon Department of Transportation's plan will only make problems worse.
Polk County Director of Public Works Ken Husby said the intersection of Perrydale Road and Oregon 22 is hazardous as there are no traffic control devices on the full-speed highway. Hay and grass seed trucks transporting crops from the farms in the area and passenger vehicles trying to get across both lanes of traffic are in danger of being broadsided by oncoming vehicles.
"ODOT is recognizing needs on this highway," Husby said. However, the plan the state agency can afford may not be the safest option.
Polk County initially wanted an overpass built over Highway 22, but ODOT decided to take a less costly route and has designed offset intersections 1,800 feet apart. ODOT's plan is to keep the Perrydale Road connection south of the highway at its current location, while the connection on the north side is moved to the east. There will be a center turn lane between the intersections.
"It takes the locals a little bit farther out of the way, but it's much, much safer," Husby said. "You don't have two high speed directions to contend with."
However, Chuck Sekafetz, who lives on the corner of Kings Valley Highway and Highway 22, sees problems with the proposed plan. He said others in the area who use the same school bus stop do as well.
The offset road will make the hay trucks and trailers come to a full stop. When they turn left across the lanes of traffic, they will have trouble gaining speed to make it up the hill, Sekafetz said. Trucks in the middle of a high-speed highway trying to gain speed could cause accidents.
"It's a bad interchange regardless," Sekafetz said. "They're just going to make it worse. They need to be looking at elevation and full use of that road before making a decision."
Jim Cook, ODOT project manager, said this is a safety project and there are limited funds. However, the plan is the most cost efficient and has the least impact on the surroundings
. He said he is not too concerned about truck's ability to make it up the steep grade.
"We looked at the minimum requirements for grades and we're well underneath," Cook said. "I don't anticipate there's much we can do about it."
Sekafetz voiced his concerns July 1 at the County Commissioner's meeting, and the board has decided to hold a public meeting in August to discuss the options.
Husby said the plan could work if ODOT built an extra climbing lane for trucks where they could safely increase speed, but he said he doesn't know if that is part of the plan.
Cook said he does not know if a climbing lane would be possible, but said he will suggest it at a meeting with his team Aug. 14.
The problem, said Cook, is that the ODOT team is constrained by the location of Hoekstra Slough and it falls within design standards for a rural arterial highway.
Cook said the new offset position of the road will stop the road from being overtopped by flood waters, as has happened before. Cook made reference to a concept public information meeting last July and said the plan was approved without any dissenting votes.
Sekafetz said he believes a clover-shaped interchange at the site would be a safer alternative, but Husby said it would be too expensive and it would require large amounts of land. Husby said a diamond-shaped interchange would be cheaper, but he has another idea.
Husby said Polk County's first choice for an interchange in the area is at the Kings Valley Highway, which would have a connection to Dyck Road, which in turn connects to Perrydale Road north of Highway 22. The Perrydale Road connection south of the highway would remain in its present location.
"The county would be disappointed because of ODOT's lack of funding for the complete solution," Husby said. "They have really good engineers, but there is only so much they can do without funds."
For more information about the project, visit www.oregon.gov/ODOT.