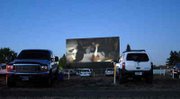 DALLAS -- When the sun drops behind the hills, music drifts through the air as families and teens on dates watch the 90-foot screen light up as the show begins.
Conventional patrons of Dallas' Motor-Vu Drive-In Theater sit in their vehicles, while others relax in lawn chairs, and on mattresses, recliners and sofas in the bed of their trucks.
Fifty years ago, this was a typical summer weekend activity. Today, with only four drive-ins still open in Oregon, it is a rare throwback to "Grease"-style Americana.
"We like to see people grow up with what we had growing up," Motor-Vu co-owner Robin Mexico says. She and her husband Jeff are the fourth owners of the 435-car theater located on Fir Villa Road.
The Motor-Vu's story began in 1953, when Don and Jeri Wernli, who had experience with indoor movie theaters, built the drive-in. It opened on July 22 and showed "Branded" and "Meet Me At The Fair" in Technicolor.
The previous owner, John Burch, was impressed with the husband and wife team's restoration of indoor movie theaters in Stayton and Albany, and asked in 2003 for the Mexico's to take on the Motor-Vu as it was struggling to survive.
They declined as they had too much on their plate. But last October they found themselves in a good place to say yes and rolled up their sleeves. As part of the agreement, they also took on the Fox Theater and The Courtyard Coffeehouse in downtown Dallas.
Since October, the Mexicos have been busy upgrading sound, restrooms, snack bar, fencing and the marquis. Jeff dons an orange vest and radio and serves as a security guard making sure everyone follows the rules.
The Motor-Vu reopened for the season the third week of April, and will be open each night until Labor Day. Then, it reverts to weekend showings only until the winter closing in October or November.
The drive-in will celebrate a grand reopening August 16 and will show "American Graffiti" and feature a burnout contest, live music and an inflatable "Bounce House" for kids.
According to www.Drive-ins.com, at the peak of their popularity there were more than 5,000 drive-in theaters in the United States. Today, there are less than 500. The other three in Oregon reside in La Grande, Milton-Freewater and Newberg.
Mexico said drive-ins are being torn down because developers want the land to build new houses, not because they are less popular.
"Originally there was a plan to put houses in (the Motor-Vu lot) and put a road through the drive-in, but people complained," Jeff said.
Chris Hamann from Salem recently visited the drive-in with his best friend and his two sons. He said he remembers riding his bike into the drive-in with friends, radios strapped to the handlebars. Today, he said he was upset when the theater in Salem he frequented as a kid was torn down and replaced with a cineplex.
Hamann said he is worried about the future of the Motor-Vu.
"When land values go up it'll be gone," Hamann said. "A lot of families will miss out if it closes."
The Mexicos said they want to keep the drive-in alive and right now business is good. Jeff said he is seeing about 40 to 75 cars on weeknights and is drawing weekend turnouts of 180 to 200 cars. However, he said he has not yet reached the 400-car maximum for a sellout this season.
Families come from all over the Willamette Valley to enjoy the trip back in time and for the price -- $18 per car for two first-run movies.
Single mother Theresa McCaughey, also from Salem, has been making the drive with her five children for the past five or six years.
"The cost is reasonable and (it is something) to do as a family," she said.
She put the kids in their pajamas and threw them in the car to see the double feature of new releases "Kung Fu Panda" and "The Hulk."
Before the movie started, McCaughey and her children were talking in their SUV, and Hamann and his friends were playing Cribbage in lawn chairs. Others were walking dogs and throwing around a football.
Jeff Mexico said he is working on a playground in front of the screen for kids to play on and a coffee and smoothie window to add to concessions. Future additions may include outside seating, putt-putt golf, batting cages and video games.
The Mexicos have big plans for the future, and intend to build on the small empire they're restoring.
"People keep saying 'oh, it's going away to put houses in it,'" Jeff said. "No, it's here to stay."