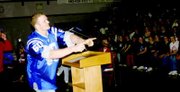 INDEPENDENCE -- At 6-foot-5, 2001 Central graduate Jeff Charleston always was a big man on campus.
But when he returned to the school this spring after playing the 2007 football season with the NFL's Indianapolis Colts, he was an even bigger man.
"When I went back there, it kind of felt the same," said Charleston, who spoke with students during an assembly in the gym. "I still remember the gym. I remember playing basketball games in there. But it does seem like a while since I've been there. It seemed a little nicer than when I was there. That's how I remember it, anyway."
Much has happened to Charleston since he played football and basketball for the Panthers.
He played three seasons of football at Western Oregon before transferring to Idaho State. He sat out one season to satisfy NCAA transfer regulations. He was the defensive player of the year in the Big Sky Conference for Idaho State as a senior. He recorded 56 tackles, 12 of which were quarterback sacks, five passes defensed and two forced fumbles.
Charleston first tried out for the Houston Texans in 2006 as an undrafted free agent but was cut near the end of training camp. He came back to Polk County and stayed with his parents while awaiting another shot.
He got it a year with with the then-defending Super Bowl champion Colts. Charleston survived each round of cuts and earned a spot on the active roster, backing up Pro Bowl defensive end Dwight Freeney.
Freeney suffered a season-ending injury, opening the way for Charleston to see time in 13 of 16 regular season games. Charleston even started three games when the Colts' other starting defensive end, Robert Mathis, also was injured.
Charleston, who battled through his own injury woes, finished the season with 22 solo tackles and 20 assists.
Indianapolis' season ended with a loss to San Diego in the divisional round of the playoffs.
"The season was a lot longer than what I expected," Charleston said. "Watching on TV you just don't realize how long it is. The college season is 11 or 12 games. You start with the preseason. That's four games there. Then you have 16 games in the regular season. That's not even counting the playoffs. It's a long season.
"I had a couple of injuries. My knee kind of flared up, and I missed a couple of games with that. Toward the end, I tore my meniscus. I was limited to just a little playing time in the playoff game. But, for the most part, being my first year, I feel pretty good about it. It's just a starting point. Something to build on."
In the NFL, getting to the quarterback is paramount for a defensive end. One thing Charleston certainly would like to build on is his sack total. He finished the 2007 season with one.
"I want to contribute a lot more in the sack category," he said. "It's definitely a need on our team. It's definitely a need for any team. Sacks and forced fumbles can change any game. That's something I plan to bring to the table throughout the season."
Charleston is the "Big Man" now, but he believes growing up in a smaller community helped him get where he is today.
"I think it helped, growing up in a small town and building closer relationships," he said. "I still talk to a lot of the friends I had in high school. A lot of the other people I know don't talk to the people they knew in high school. It definitely helps a lot."