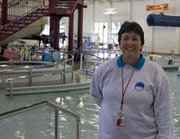 DALLAS -- There's something in the water at the Dallas Aquatic Center -- lots of families, courtesy of reduced prices and the summer season.
Community Development Director Jason Locke is devoting his time to making the center more efficient -- both in terms of energy usage and funding necessary for operations.
City Manager Jerry Wyatt said $250,000 a year is spent on electric and gas, and the goal is to reduce that amount to $170,000 next year.
When the center opened in 2000, voters had only passed the bond to construct it and not the additional bond that would fund it for five years, Locke said. He is now working with Aquatic Center Manager Tina Paul to find ways to save money and increase revenue, so the amount from the city's general fund can go toward other services and programs.
The center has several issues that need to be fixed because they are increasing operating costs. Locke said the wrong pumps were installed when the pool was constructed and a gap in the pool coping was never filled, sending energy bills through the roof.
Last month, Locke said the energy bill was nearly $8,000 and the gas bill was $9,000.
"Quite frankly, the energy consumption is killing us," Locke said.
He said the aquatic center is in the middle of an energy audit by the Oregon Energy Trust, which should be done by mid-August and offer steps to improve energy efficiency.
The center is also working to increase its revenue by reducing rates. Locke said people had told him the biggest complaint from the community was that the $600 cost for an annual pass for residents was too expensive.
Rates for annual passes were lowered this month to $400 per year and include water aerobics and 20-percent-off swim lessons.
Locke said there has been a surge in membership since the rates were lowered, and the center now boasts more than 300 members since the rate change in June. The membership number was around 200.
Paul said many senior citizens are purchasing memberships because the pool offers alternative exercise programs, and said families usually sign up in the fall.
She said at the rate the community is purchasing memberships, as many as 450 people could be signed up by fall.
Locke said he hopes the center could be self-sustaining in the future, but there are few aquatic centers that are. But, he said the less it has to rely on general fund money, the better.
Recent additions to the center include a rope swing and junior lifeguard program, and Locke said next on the list is to put in an outdoor spray park.
Locke said the center will have a booth at Dallas' Summerfest celebration in July and will give away prizes such as tote bags. Paul said they will also be giving out 2-for-1 discount coupons.
For more information, call the Dallas Aquatic Center at 503-623-9715.