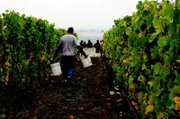 POLK COUNTY - Much like the popular adage, Polk County's wine industry only gets better with time.
Bottles bearing the names of local vineyards like Airlie, Chateau Bianca, Eola Hills and Van Duzer, among many others, have helped make Polk County one of Oregon's top producers of grapes and wines.
The county continues to rank among state leaders in nearly every wine production category, based on a report released last month by the USDA's National Agricultural Statistics Service.
The 2007 Oregon Vineyard and Winery Report is proof that Polk County is a major player when it comes to the state's touted wine industry. Vineyards in the county account for a healthy portion of the state's industry totals.
Polk County ranks second in planted acreage (2,660), second in harvested acreage (1,891) and second in production (5,097 tons). All were increases from 2006.
The county also ranks third in number of vineyards with 77. Only Yamhill (232) and Washington (78) counties have more.
"We're excited about the potential still here," said Tom Huggins, founder and general manager of Eola Hills Wine Cellars in Rickreall.
"We just purchased 162 more acres ourselves and will be planting that over the coming years. There is unlimited potential for growth here in Polk County."
According to Mariko Clark, public relations manager for the Portland-based Oregon Wine Board, portions of Polk County sit in an ideal location for growing wine grapes.
She said that parts of the county are in the Eola-Amity Hills American Viticulture Area. The Eola-Amity Hills region has a temperate climate of warm summers and mild winters, and 40 inches of annual rain, most of which falls outside of the growing season.
The average maximum temperatures contribute to the ideal conditions for the cool-climate grape varieties that dominate the Eola-Amity Hills.
The soils in the Eola-Amity Hills predominantly contain volcanic basalt from ancient lava flows as well as marine sedimentary rocks and alluvial deposits at the lower elevations of the ridge, she added.
"This combination results in a relatively shallow, rocky set of well-drained soils, which typically produce small grapes with great concentration," Clark said.
Pinot noir accounts for the majority of Polk County's planted acreage, with 1,838 acres in that variety. Pinot gris (405 acres) and chardonnay (163 acres) are a distant second and third.
According to an Oregon State University report just released, wine grapes harvested in 2007 in Polk County had a wholesale value of more than $7.4 million.
And the economic impact of the industry to the county goes beyond that. Clark of the Oregon Wine Board noted that the Economic Impact Study of Oregon State Wine, released in 2005, showed that in 2004 Polk County had an estimated 218 wine industry employees who received more than $5.4 million in wages.
Statistics in the National Agricultural Statistics Service report support the theory of continued growth for the wine industry in Polk County. Planted acreage rose from 2,082 in 2006 to 2,660 in 2007, nearly a 28 percent increase.
How much additional growth will the area see?
"That is hard to say," noted Clark. "In large part Mother Nature dictates the future of our industry. One indicator of (future) growth is planted acreage, because that becomes harvested acreage and crushed grapes."
Added Huggins: "Grapes grow best on hillsides, and there are lots of hillsides in Polk County. The demand for wines and grapes is higher now than when we all got started here. The potential for more growth here (Polk County) should continue for some time."
Neighboring Yamhill County leads the state in nearly every wine industry category, including planted acreage, harvested acreage and production in tons.
Statewide, the industry also continues to grow and little slowdown is anticipated in the near future.
For the third year in a row, Oregon produced and crushed a record amount of grapes. And for the second straight year, Oregon grape growers planted a record number of new acres, according to the NASS survey.
Oregon's 370 wineries produced wine under 442 labels in 2007, resulting in sales of about 1.7 million cases valued at $207.8 million.