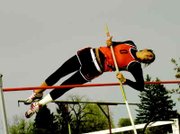 DALLAS -- After hosting a tough Silverton team May 1 and traveling to Gresham May 2 for the Dean Nice Invitational, the Dallas track team now has only a home dual meet Wednesday, May 7 with Lebanon between it and the all-important Mid-Willamette Conference meet.
"I'm really excited," DHS coach Brodie Unger said. "This meet on Friday (Dean Nice) gave us some pretty tough competition. Our athletes rose to the occasion and didn't back down. I'm extremely pleased with where we're at. Now we've got one more meet on Wednesday to kind of get things tuned up."
The Dean Nice field included eight Class 6A schools, six 5A schools and Class 4A Central.
The 5A Dragons were led by Erica Kreiley and Shelby Sayer.
Kreiley took first in the discus with a toss of 114-05. She placed third in the javelin with a throw of 118-02 and took eighth in the shot put with an effort of 33-3.5.
"She's still a little bit off her PRs (personal records)," Unger said. "We've got to go back to the drawing board a little bit and try to get her form back a little, especially in the discus and javelin. She's getting to the point where she's due. I have 100 percent confidence she's going to let something fly pretty soon."
Sayer placed second in the 300 hurdles and eclipsed her own school record with a time of 46.73. She also ran eighth in the 100 hurdles with a clocking of 17.25.
Sayer ran with Brittany Brostrom, Lexi Pola and Chelsea Rutkowski in the 1,600 relay. They finished fifth in 4:11.53.
Sayer, Brostrom, Pola and Jolia Copps turned in a time of 51.57 for seventh in the 100 relay.
Pola also placed fourth in the 400 in 1:01.08 and was fifth in the 200 in 27.4.
Shaun Speelman took seventh in the 300 hurdles in 42.4.
"It was a good meet," Unger said. "It's a big meet It's good to get a little experience with big meets, especially with the district meet coming up."
Silverton visited Dallas and displayed a lineup that is rich in both quality and quantity. The Silver Foxes won 92-52 on the girls side and 125-29 on the boys side.
"They are tough," Unger said. "They're so deep. Number-wise, they're really up there, but I thought we competed well."
Travis White returned from a hamstring injury against Silverton and ran second in the 110 hurdles in 16.4.
Speelman won the 300 hurdles in 42.2, the best time in the event this season in the MWC.
Michael Beaton bettered his mark in the shot put by about two feet, taking second with a throw of 46-8.
Micah Swan's effort of 130-7 was good for the runner-up spot in the discus.
Josh Francom took first in the high jump by clearing 5-4, and Kyle Beck's toss of 140-7 was good for second in the javelin.
Sayer won the 100 hurdles in 16.1, and Hannah Frederick took first in the 300 hurdles in 49.5.
Kreiley won the discus with a mark of 117-7 and was second in the shot put (33-10) and javelin (117-3).
Malena Thackeray cleared 9-0 for first in the pole vault.
The Dragons will entertain Lebanon before turning full attention to the MWC Meet, which will be held Tuesday-Wednesday, May 13-14 at Western Oregon. The top two finishers in each event advance to state the following week at Hayward Field in Eugene.
Track notes
: A fund-raising barbecue for Dallas' Parker Stewart will be held during the Wednesday, May 7 meet with Lebanon. The meet and the barbecue begin at 4 p.m.
Stewart was injured at a recent practice when he was accidentally hit in the head by a discus thrown by a teammate. He remains hospitalized, and the family has no health insurance to cover the cost of his treatment.