Tuesday, November 4, 2008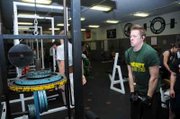 DALLAS -- Last spring, a Dallas High School student was in a coma for two weeks.
Today, despite the plastic plate in his head, Parker Stewart is weight training for five hours each day to reach his goal of competing in the discus throw at this year's Class 5A state track and field championships.
Stewart is still dealing with a painful tailbone from being in the hospital for so long, but he is on the right track with his training. Last spring, he placed high in meets with throws of 140 feet, 2 inches and 136-3.
"Heads up!" is one of the few memories the Dallas High senior has of the accident April 10, when he was hit in the head with a four-pound discus.
Stewart was in a coma for two weeks with a severe head injury. Pieces of his shattered skull were in his brain.
His mother, Cathy, said she doesn't remember how many hours the emergency surgery took.
"They took him and did surgery right away," Cathy said. "It was a very long night. They said they did what they could, but they wouldn't know until he came out of the coma. They were thinking he was going to have a lot of brain damage."
She cried for two whole weeks, took a break from working, and tried to keep everything together for Stewart's brother and three sisters.
Finally, to everyone's relief, Stewart awoke.
He said after coming out of the coma, he had very realistic dreams that made it unable to determine whether he was really awake. He still had a tube down his throat that made it impossible to speak to classmates who came to visit.
Stewart was hooked to 11 machines that took up so much space in his hospital room that there was hardly space for visitors.
Stewart said the hospital room he was in was right by the nurse's station and the constant talking, clicking of keyboards, and bright light made it tough for him to rest.
"Even when I asked if we could just shut the door, which we couldn't, there had to be someone in there watching," Stewart said. "I just wanted to get some sleep."
During his one-month hospital stay, Stewart lost 40 pounds.
"I'm so puny," he would joke as time went on.
Stewart, who was expected to compete at state last spring in the discus, was disappointed that he was only able to compete in three of 16 meets last season.
Upon returning home, Stewart could still only open his mouth the size of one finger from lack of use. Cathy said friends helped with speech therapy and made him practice making different sounds with his mouth to speed his recovery.
One month later, Stewart headed back to the hospital for a second surgery. He had no skull on the left side of his head and a plastic plate was inserted to protect his brain.
Over the summer, he said he caught up on homework, went to physical and memory therapy, and dreamed of competing in the discus his senior year. Stewart recovered quickly, and surprised even his doctors who warned Cathy that he may lose his memory and range of motion.
"His recovery was a miracle," Cathy said. "Even the doctors said 'He's our miracle patient.' He was not supposed to come out like he came out."
Stewart started school this fall as a senior and will be going out for track and field once again this year. He has been practicing in the offseason, throwing the discus and weight training for five to six hours each day.
With his current grade-point average of 3.9, he hopes to fund his collegiate dreams with a track and field scholarship to study business management.
Stewart not only has a sincere determination for his sport, but now the accident and recovery has changed his perspective.
"I feel that I'm really blessed and I don't take advantage of (aspects of my life) as much as before," Stewart said. "I have a nice family and live in a great community."