Tuesday, November 18, 2008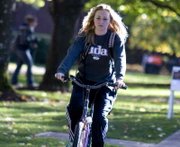 MONMOUTH/INDEPENDENCE -- There's improvements to be made in order for Monmouth and Independence to be considered truly bike-friendly, officials in both towns say.
Still, there are amenities and existing infrastructure in place now that make pedaling a more-or-less reasonable way to get around the two communities.
Independence has bike lanes along the south side of Hoffman Road from its city limits, and on Monmouth Street up to the Seventh Street intersection.
A streetscape enhancement a few years ago to Highway 51 just beyond downtown also included lanes for cyclists.
The city has four bike racks scattered around its historic core, but none in its parks. Community Development Technician Shawn Irvine said some Central High School students are building bike racks as a senior project.
Irvine said several residents have opined for more bike lanes during the city's current 2020 Visioning process.
"We want a city where people can feel more comfortable biking and walking, especially on our major roads," he said.
By virtue of Western Oregon University's existence, Monmouth has many people traveling daily by bicycle on the northwest side of the city. Monmouth Avenue, as it runs through the campus, has bike lanes on both sides of the road and most university buildings have bike racks.
Monmouth is the final stop of a state-funded bike trail system that runs from West Salem southwest to Highway 99W.
There are no streets with designated bike lanes, though because of the city's street layout, many routes are wide and flat enough to safely accommodate cyclists with good visibility, Monmouth City Manager Scott McClure said.
The city has bike racks in front of its public library and a handful along Main Street in front of different businesses and City Hall.
"That's something that will be in the transportation master plan we're working on," McClure said.
Officials in both communities also point to the proposed Ash Creek Trail as a way to accommodate cyclists. The project seeks to link Riverview Park in Independence to the university.
James Kirk, an 84-year-old bike enthusiast from Monmouth and former art professor at Western, said he has "ridden every street in both towns."
Kirk said he favors streets in Monmouth because of their level grade, particularly Olsen Addition in the southeast. Biking on Monmouth Street in Independence, meanwhile, is "treacherous" because of rain gutters, traffic and the narrowness of the bike lanes, he opined.
"I'd like to see a really nice bike path through the cities," he said. "Ideally, it would go right down Main Street" to Monmouth Street.