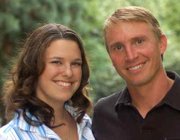 Garver-Feigel
Sarah Caroline Garver of Hillsboro and Edward Lee Feigel of Hillsboro are planning a July 2009 wedding.
The bride-to-be is the daughter of Kathryn Dysart and Stockton Garver, both of Dallas. Her fiance is the son of Teena Cornelius of Spokane, Wash.
Sarah, a 2003 graduate of Dallas High School and 2008 graduate of the University of Oregon with a Bachelor of Science degree, is a relationship specialist at Farmer's Insurance in Hillsboro.
Edward, a 1993 graduate of Fairbury High School in Nebraska and a 2006 graduate of the University of Phoenix with a Bachelor of Arts degree, is a customer engineer associate at Applied Materials in Hillsboro.
The wedding is set for Saturday, July 11, 2009, in Portland.