Tuesday, October 14, 2008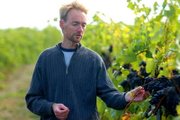 POLK COUNTY -- Dozens of workers fanned out among the rolling, trestled hills of Firesteed Wines' vineyards just west of Rickreall last Friday.
The sight of clear skies and workers expertly snipping dark, pinot noir grape clusters from vines was a welcome one for Bryan Croft, the farm's winemaker.
Picking had been halted a few days before because of rain. Croft, and others involved in the region's wine industry, have since been poring over forecasts and web sites, trying to predict the onset of sustained precipitation, when to harvest and how long to allow grapes to continue to ripen.
"You want to leave them on the vine as long as you can and then harvest the crop to maximize quality," Croft said.
The wine grape harvest in Polk County and the rest of the Willamette Valley is roughly two weeks behind schedule this year because of a cold spring, wet August, and some early October rain.
Prospects are still good, however, provided this recent bout of dry weather sticks around through the end of the month.
"I think the wine will probably be of excellent quality," said Dean Underwood, vineyard manager of the 380-acre Olsen Family Vineyards south of Monmouth. "At least for ours, the yields will be lighter, but quality is the name of the game.
"If I had my way, we would probably be done with the harvest by now, but the longer the berries hang on the vine, the better the flavor develops."
Cool and dry are preferred late season conditions for pinot noir grapes, the prevalent variety in the valley. Rain at this point can lead to botrytis fungus, or cause splitting and sugar dilution in the fruit.
"We're not seeing that," Croft said. "If it was wet and humid, we might, but I think we'll get the berries off before then."
The bud break and bloom for grapes were delayed because of the late spring, but it's too early to predict how that might affect tonnage yields in 2008, said Patty Skinkis, Oregon State University Extension Service viticulturist.
Last year, Polk County's 77 vineyards produced about 5,097 tons -- or 2.7 tons per acre -- of mostly pinot noir, pinot gris and chardonnay grapes.
Underwood said Olsen vineyard's yield may be about 25 to 50 tons lighter than the 325 tons that owners had projected because of fruit drop -- cutting imperfect clusters.
Still with a few more vineyards planted in Polk County this year, however, the number of acres being harvested should exceed 2007's total of 2,660, Skinkis said.
Grape quality is as important a measurement of a successful season as quantity, she added. September was a good growing month, and fortunately, the rain fell when most fruit had not yet ripened.
"I think wines in Oregon will be more elegant this year," Croft said. "They're not big, bold, muscular wines, but a truer pinot."
Wine production might be lower, but the industry in Oregon appears to be weathering the poor economy.
"Oregon produces less than 1 percent of the wine sold in the United States," said Al MacDonald, vineyard manager for the Chemeketa Community College's Northwest Viticulture Center. "As long as it can hang on to that market share, it will be just fine.
"Also (wine grapes) a long term crop...wine made this year won't be on sale for another two."
Croft said September was a strong month at FireSteed, due in part to the distribution of a brand of pinot noir that retails at about $15 per bottle.