Tuesday, October 14, 2008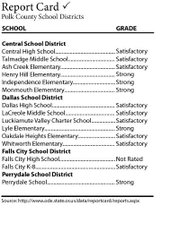 POLK COUNTY -- Oregon Department of Education (ODE) released its 2007-08 school report cards Oct. 7, and scores for the county's four school districts were mostly average.
The report cards are based on statewide assessment tests given to students in grades 3 through 10, as well as academic progress from year to year, student attendance, teacher education and experience, and other performance measurements.
It's a markedly different formula than the Adequate Yearly Progress system used as part of No Child Left Behind, which fails a school if one of its nine subgroups -- which include minorities and disabled students -- don't meet federal standards.
Overall, the 1,130 schools in Oregon receiving ratings got lower scores in 2007-08 than the previous year, according to ODE.
Slightly more than 11 percent received "exceptional" marks, and 36.6 percent were "strong," compared to 14 percent and 41 percent, respectively, in 2006-07. The number of "satisfactory" scores grew by 7 percent.
All three of Central School District's elementary schools garnered "strong" ratings: Monmouth Elementary School dropped a notch from "exceptional" to "strong," while Henry Hill Elementary School improved from "satisfactory" the prior year.
Talmadge Middle School dropped from "strong" to "satisfactory." Ash Creek Intermediate School, which was converted into an elementary school this fall, and Central High School remained "satisfactory."
Regarding the overall improvement rating for the district, all of Central's schools were noted as "staying about the same" in attendance and assessment scores during the past four years.
Central High's dropout rate increased by .2 percent to 5.3 percent last year, while attendance improved slightly.
Falls City Elementary School received a "satisfactory" mark for the seventh year in a row.
"We're hoping for better next year," said Falls City Elementary Principal Aaron Hale, adding that his teaching staff has recently implemented an early intervention program to help identify problems a child might have in math or reading.
Falls City High didn't receive a rating because there are too few sophomores to meet ODE's report card requisite of 80 assessment tests given between the last two years, said Cynthia Yee, ODE spokeswoman.
And with only grade 10 students tested -- there were 15 in 2007-08 -- report card information could be pinpointed to certain students, thus compromising privacy laws, Hale said.
The district still shares the assessment, dropout and attendance data with staff and parents, he noted.
Dallas School District's ratings dropped or remained the same from a year ago.
Dallas High School and Luckiamute Valley Charter Schools remained at a "satisfactory" level in 2007 and 2008. Lyle Elementary retained its "strong" rating.
However, LaCreole Middle School, Oakdale Elementary and Whitworth Elementary dropped from "strong" to "satisfactory" over the past two school years.
"A satisfactory is satisfactory," said Cory Bradshaw, the director of instructional services for the Dallas School District. "We've kind of conditioned ourselves to not be happy with satisfactory."
Bradshaw said for those schools whose ratings dropped, there is no real solid explanation although she could suggest reasons.
She said Whitworth's fifth-grade class historically has not tested well and the bar was raised in 2006 and 2007 to reach the better scores, so a drop was naturally expected.
"(This) happens to everybody; it's certainly not a Dallas phenomenon," Bradshaw said.
As for the high school dropout rate, Dallas High School had 28 students of the 990 enrolled drop out in 2005-2006 and the number went up a bit with 31 students of the 1,083 enrolled in 2006-2007.
The Perrydale School District remained "strong." Perrydale's dropout rate remains low with one student leaving in 2005-2006 and one in 2006-2007.
Bradshaw said dropout scores are used to compare states, and smaller schools generally have low rates because more attention can be spent on individual students.
Students in Oregon are tested three times a year. The rating is generated by combining a score for performance and attendance and given a certain weight, Bradshaw said. Scores from the most recent two years are averaged for the current score.
"Any test is a snapshot of student performance at any given time," Bradshaw said.
Tests have an artificial quality, she said, and are not always the best way to evaluate performance. Bradshaw said if all of the report cards showed a decline, then the results should be taken very seriously, but they are not.