Tuesday, October 21, 2008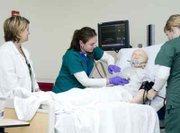 MONMOUTH -- The simulation lab in Western Oregon University's nursing building looks and feels like a hospital room, down to the gown-clad plastic mannequin -- or "SimMan" -- propped up in the bed.
Behind tinted windows at the back of the room, a technician tinkers with computer software that lets her alter the respiratory and circulatory systems of the high-tech doll.
Nursing students in the lab for a demonstration respond to low oxygen saturation in the blood in the high-tech mannequin.
In a different scenario a few minutes later, the faux patient goes into cardiac arrest and the group immediately administers CPR.
"Today's the first day we've worked in this situation," said Albert Sierra, who, along with 26 other students, is four weeks into Oregon Health & Science University's nursing program at Western Oregon University.
"Being a beginning nursing student (in this setting), you're not afraid to make mistakes," Sierra, 30, said. "If you went in (feeling) reserved, it's harder for you to learn ... this is really great."
About 100 people, from state lawmakers to local residents, were invited to Western on Oct. 17 for a glimpse of the new nursing facility, finished this summer as part of a $4.5 million renovation of the old Oregon Police Academy building.
They also had a chance to meet the inaugural class of OHSU's three-year, nursing bachelor's degree program at Western.
"We're entering a crisis in health care in this country," said Lesley Hallick, OHSU provost. Addressing the new students, she continued, "You'll be in the driver's seat in helping us solve that."
In 2001, several universities and community colleges in the state formed the Oregon Consortium for Nursing Education to increase nursing program capacity and student enrollment to combat the regional and national nursing shortage.
The initiative entails a shared curriculum over all the campuses, and lets students work toward nursing bachelor's degrees at institutions in or near their communities.
With the addition of Western, OHSU now has four regional campuses. Students take prerequisites through their local college before applying to the nursing program, which is run and taught by OHSU staff.
Oregon's need for nurses stems from a couple of factors, the first being a senior population that ranks among the highest in the United States, and increases the need for hospice care.
According to the Oregon Center for Nursing, half of the state's nurses are older than 50, and 41 percent of current registered nurses will retire by 2025.
Jean Donovan, nursing academic program director at Western, said it isn't a lack of interest making it hard to replace those positions -- 140 applied for nursing school at the Monmouth site -- but a general shortage of nursing educators and proper facilities.
Nursing is a more demanding profession than it was 30 years ago, as nurses must be tuned in to a patient's physical, emotional and psychological well-being in emergency-room or home-care settings, Donovan said, noting the need for comprehensive training through a baccalaureate/RN licensure program.
"It takes a nurse who's confident, can make clinical judgments and is skilled in patient education," she said.
Western's 9,000-square-foot facility mirrors what's available at OHSU's Portland campus, but has newer equipment. The simulation lab is lined with cameras that allow students in a debriefing room next door to watch cases in real-time and discuss them with faculty.
"Having them in this setting, responding like they would in real life, with the anxieties ... we think it makes a big difference," Donovan said.
Students will do practicum work -- such as taking blood pressure or examining vitals -- in a separate skills lab. Donovan said she also plans on utilizing Western theater students to help simulate health scenarios.
Besides Donovan, the nursing program has two full-time faculty members; other OHSU instructors and specialists will visit campus to provide instruction on an as-needed basis.
There are also plans to add a half-time simulation lab technician before the end of the year.
Caryn Ricks, 33, of Independence, was accepted into the nursing school this fall and hopes to work in a clinical setting, and possibly teach.
"The immediate staff here ... we have powerful, knowledgeable women leading us," she said. "It's very exciting to be part of the first class."