Tuesday, September 2, 2008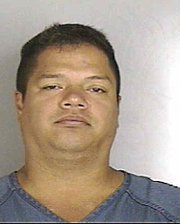 KEIZER -- A Pedee man was arrested last week after chasing his estranged wife, their two children and her boyfriend through an apartment complex with a loaded rifle, Keizer police said.
David Frey, 31, was charged with unlawful use of a weapon, five counts of reckless endangering, domestic harassment, attempted burglary and disorderly conduct. He is currently lodged in Marion County Jail. His bail is set at $75,000.
According to Sgt. Alan McCown, Frey got into an argument with the woman and her boyfriend at Claggett Creek Park in Keizer the afternoon of Aug. 28.
About an hour later that day, Frey drove to the woman's apartment complex at 828 Lockhaven Drive and confronted them. When the woman didn't want to talk to him, Frey went to his vehicle and retrieved a gun. He then chased the couple, the kids and the apartment manager around the complex and into a unit, where they barricaded themselves in and called 9-1-1, McCowan said.
Frey tried to break in, then attempted to shoot into the apartment, but his rifle malfunctioned.
"It's a very serious case," said Capt. Jeff Kuhns. "We're quite fortunate that we're not investigating it as a murder."
Frey fled the scene on foot and was apprehended several blocks away.