Tuesday, September 16, 2008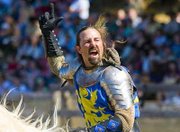 Strengthening Families
class scheduled
The third session of "Strengthening Families," a seven-week evidence-based program, meets from 5:30 to 8 p.m. at the Academy Building in Dallas on Tuesdays from Sept. 30 through Nov. 11.
The classes are designed to help families with children ages 10 to 14 be more successful in dealing with the challenges of early adolescents. Both the adults and youths attend the course.
The class is free and dinner and child care are provided. Space is limited. Deadline to register is Wednesday, Sept. 24.
For more information: Angie Schneider, 503-931-8368.
Leadership training
offered in Dallas
Oregon 150 and SOLV are offering a free hands-on leadership development workshop in Dallas on Thursday, Sept. 18, from 9 a.m. to 3 p.m. at the Dallas Civic Center.
The workshop is open to anyone interested in gaining skills on how to envision and lead successful community projects. Topic covered include project planning and logistics, volunteer management and working with the media.
To register or for more information: http://www.solv.org; Jenni Lefing, 1-800-333-7658; e-mail to jenni@solv.org.
Women's fitness center
plans open house
Curves of Dallas and Monmouth will host open houses Wednesday and Thursday, Sept. 17-18, from 3 to 7 p.m. both days
Tours, refreshments, prize drawings, free body fat analysis, and for women age 18 and older a free fitness assessment are part of the activities scheduled.
For more information: Dallas Curves, 503-623-6226; Monmouth Curves, 503-838-7109; www.curvescomplete.com.
Baskett Slough
trip on tap
Salem Audubon Society has scheduled a field trip to the Baskett Slough National Wildlife Refuge near Dallas on Thursday, Sept. 18.
The group will assemble at the Salem Audubon Society Nature Reserve at 7:30 a.m. and return around 4 p.m. The trip should include a mix of beginning and experienced birders, and there is no charge to participate.
Most of the refuge will close to the public on Oct. 1, so this is one of the final opportunities to explore Morgan Lake and much of the rest of the area. The group will look for migrating shorebirds, waterfowl, raptors and passerines.
For more information: Wes Craven, 503-873-3182; Glen Lindeman, 503-364-6968.
Library showing
anime film series
Independence Public Library, 175 Monmouth St., will host an anime film series for youths beginning Thursday, Sept. 18, at 4 p.m.
The films are from a Nickelodeon TV series and follow the adventures of a young boy who can do amazing things with air, water and earth and fire. Additional episodes will be shown Sept. 25 and Oct. 2. Admission is free and popcorn will be served.
For more information: Jolene Hall, 503-838-1811.
Independence church
hosting fashion show
A fall fashion show, "Dressing on a Budget," will be held Thursday, Sept. 18, at 7 p.m. at First Baptist Church, 1505 Monmouth St., in Independence.
The show is hosted by the church's Women's Ministry. It will feature music bu Shiela Duluk and an inspirational talk by DeAnn Ainsworth. There is no cost to attend.
For more information: Betty Faul, 503-838-5578.
Variety show for
Butterfield set
A variety show fundraiser to benefit the Stan Butterfield for Polk County District Attorney campaign has been scheduled for Friday, Sept. 19, at 7 p.m. at Dallas High School's Bollman Auditorium, 1250 SE Holman Ave.
Joe Shinkle & 99W, the Hot Shot Tap Dancers, Shave and a Haircut, and Steven Springer Jr. are among the acts scheduled to perform.
Tickets for the fundraiser, hosted by Friends of Stan Butterfield for Polk County District Attorney, are $10 each and can be purchased in advance at Butterfield's office, 140 SE Mill St., Dallas. Tickets will also be sold at the door on a first-come, first-served basis.
For more information: 503-623-4075.
Registration accepted
for upcoming classes
Dallas Intercommunuity Activities Network is accepting registration for two upcoming community programs it is coordinating.
"Choreographed Ballroom Jive and Single Swing" will be offered for six weeks starting Wednesday evening, Oct. 1, at the Morrison Gym. The class is open to ages 17 and older. Cost is $50.
The next four-week session of "Karate for Everyone" starts Thursday, Oct. 2, at the Morrison Gym. Youths 7 and up meet from 6:30 to 7:30 p.m., with adults meeting from 7:30 to 8:30 p.m. Cost is $30 per person and there are family rates available.
Dallas ICAN is a not-for-profit organization dedicated to the development and promotion of fun, healthy and creative community enrichment programs in the greater Dallas area.
To register or for more information: Michele Campione, 503-623-5055; e-mail to michelec@dallasican.org.
'Walk' arrives in
Monmouth Saturday
Walk Across Oregon, a campaign to bring attention to the prevention of sexual abuse of children and care for survivors of abuse, continues its statewide march by walking through Polk County on Saturday, Sept. 20.
The group will meet at the Burgerville restaurant in Monmouth at 9 a.m. and proceed east on Main Street (Highway 51) toward Independence. The group is scheduled to be at Polk Marine Park in Independence at noon, then will walk toward Salem on Highway 51 to conclude its daily activities.
The walk started Sept. 1 in Ashland and is scheduled to conclude Sept. 28 in Portland.
For more information: Virginia Jones, 503-866-6163; e-mail to compassion500@aol.com; www.compassionategathering.org.
Capitol building fires
topic of presentation
Kyle Jansson, a longtime member of the Polk County Historical Society and coordinator of the Oregon Heritage Commission since 2002, will be the featured speaker at the Polk County Museum on Saturday, Sept. 20, at 1:30 p.m.
Jansson will speak on "Fire, a Capitol Tale." The present State Capitol building is the third in Oregon history. The two previous buildings were destroyed by fire in 1855 and 1935.
The event is open to the public. The museum is located at 560 S. Pacific Highway (99W) in Rickreall. For more information: 503-623-6251.
ICAN will offer
after-school activities
Registration is under way for the upcoming slate of after-school programs being offered through Dallas Intercommunity Activities Network.
Dallas ICAN Create is offering "Art Start," an after-school art program for children ages 6 to 8, from 2 to 4 p.m. at Oakdale Elementary. "Art Adventures" is another after-school program geared for children ages 8 to 11. It runs from 3 to 5 p.m. starting Wednesday, Oct. 8, at Oakdale. And the "Heritage Crafts" program for youths 7 and older will resume Tuesday, Oct. 7, meeting from 3 to 5 p.m. at the Dallas Senior Center.
All after-school programs cost $30 per four-week session.
To register or for more information: Michele Campione, 503-623-5055; e-mail to michelec@dallasican.org.
Southern gospel
concert due sunday
Gospel Sound will present a southern gospel concert at 5 p.m. Sunday, Sept. 21, at Heart to Heart Church, 191 Monmouth Ave. N.
A freewill offering will be taken and a time of fellowship and finger foods refreshments to follow.
For more information: Annita Yates, 503-838-4742.
Driver safety class
scheduled in Dallas
A two-day AARP Driver Safety class is scheduled for Monday and Wednesday, Sept. 22 and 24, at the Dallas Senior Center, 955 SE Jefferson St.
The two four-hour classes, which run from 8 a.m. to noon each day, are open to any licensed driver in Oregon. Preference is given to drivers over 50.
Cost is $10 per person and includes materials. Space is limited and preregistration is necessary.
To register or for more information: Instructor Patricia Sevcik, 503-623-5939.
Dragon Run signups
due this Monday
The second annual Dragon Run is just around the corner, and students are reminded of the Sept. 22 deadline to register for the event that benefits the Dallas Education Fund.
The Dragon Run is scheduled Saturday, Sept. 27, at 10 a.m. Starting points, depending on age and ability, are Dallas High School, Whitworth Elementary School, the Dallas Aquatic Center and LaCreole Middle School.
The run is open to students in kindergarten through eighth grade. They can obtain entry forms and return them at the school they attend.
For more information: Trenda Locke via e-mail at trenda.locke@dallas.k12.or.us.
Deadline approaches
for cultural videos
Monday, Sept. 22, is the deadline for submitting entries to the Oregon Cultural Trust video competition.
Videos must be no more than 3 minutes in length and offer a definition of culture in Oregon. Winning entries may be used in a promotional campaign by the Oregon Cultural trust.
Complete rules and information about the video competition are available online at www.culturaltrust.org.
For more information: 503-986-0088; e-mail to cultural.trust@state.or.us.
Relay For Life
fundraiser planned
Be among the first in the community to donate to Relay for Life of Polk County by buying pizza from Ugo's in Dallas.
The Wal-Mart Walkers Relay for Life team is hosting this fundraising event on Tuesday, Sept. 23, from 4 to 9 p.m. at Ugo's, 967 Main St.
Ugo's, a big supporter of community fundraising efforts of all kinds, will donate 50 percent of all purchases during those hours to the American Cancer Relay for Life event.
Candidate to host
forum in
Falls City
Jason Brown, Democratic candidate for House District 23, will hold a town hall meeting Tuesday, Sept. 23, in Falls City to discuss his platform and issues of concern to Polk County residents.
The event begins at 7 p.m. and will be held at the Falls City Community Center, 320 N. Main St. It is free and refreshments wil be provided.
For more information: www.brownforhouse.com
Immigration subject
of Sept. 25 discussion
A forum and community discussion on the subject of immigration is scheduled for Thursday, Sept. 25, at 7 p.m. at Christ's Church Methodist and Presbyterian United, 412 W. Clay St., Monmouth.
Speakers will discuss the history of immigration, the effects of immigration on our community, and immigration laws. A community discussion of immigration will follow the presentations.
For more information: 503-838-1724.
Library group sets
benefit book sale
Friends of the Independence Public Library will host its annual September Used Book Sale Sept. 26-27 from 10 a.m. to 4 p.m. at the site of the old city library, 311 Monmouth St. in Independence.
Videos, DVDs, fiction, mysteries, science fiction, nonfiction, books for beginning and advanced writers, biographies, children's books, travel and magazines are among the types of items that will be available.
Cost for hardback books is $1 and paperbacks are 50 cents. Proceeds go toward upcoming programs at the library and for other needs.
For more information: Independence Public Library, 503-838-1811; Betty Plude, 503-838-4039.
Stroke, osteoporosis
screening available
Life Line Screening will be offering a health screening service to check for the risk of stroke and osteoporosis Friday, Sept. 26, beginning at 9 a.m. at Dallas Alliance Church, 775 E. Ellendale Ave.
The screenings are designed to help identify potential health problems such as blocked arteries, irregular heart rhythm, abdominal aortic aneurysms, hardening of the arteries in the legs, and osteoporosis.
Cost for the service is $149. The five screenings take about 60 to 90 minutes to complete. Preregistration is required.
For more information: 1-800-697-9721; online at www.lifescreening.com.
Event raises funds
for Dallas hospital
The eighth annual Moonlight and Vines Gala dinner and auction held Aug. 15 at BreckenRidge Vineyard in Dallas raised a record $24,590 for various programs and services at West Valley Hospital.
About 200 people attended the gala, which raised money for programs including the Connections Van, surgical instruments, and staff training and education.
"It's a great show of support that each year so many Polk County residents come out to this event to not only celebrate West Valley Hospital, but also to help us build on the future of continuing to provide top quality medical care to this area," said Sherri Partridge, annual giving officer for the West Valley Hospital Foundation.
Dallas students earn
hospital scholarships
Six students from Dallas are among the 86 from throughout Oregon to receive scholarships for the 2008-09 school year from the Salem Hospital Foundation to pursue studies in medical or medically related fields.
Dallas students receiving scholarships were Anna Dentel, James Hoffman, Joseph King, Melissa Martin, Athena Samerotte and Benjamin Yost.
A total of $143,400 in scholarships were awarded to students pursuing degrees in nursing, pharmacy, imaging, and a variety of other medically related programs.
Scarecrow contest
hosted by library
Independence Public Library will host the third annual Hop & Heritage Festival Scarecrow Contest Saturday, Sept. 27.
The family friendly event is open to all ages. Categories include largest, smallest, most unusual, best use of recycled materials, best business entry, and more. The event also helps celebrate the library's fifth year in its current facility.
Entry forms can be picked up at the front desk at the library, 175 Monmouth St.
For more information: Jolene Hall, 503-838-1811; e-mail to joleneh@ccrls.org.
SMART makes changes,
seeks area volunteers
The local Start Making a Reader Today (SMART) program serving Polk, Marion, Linn and Benton counties recently announced several staff changes.
Lee Tinker is the new area manager, Tammy McCammon has been named assistant program manager, and Christi Clark is the new area assistant.
The SMART program is available at Independence Elementary School and Myers Elementary School in West Salem. Both schools are seeking volunteer site coordinators as well as volunteer readers.
For more information: Lee Tinker, 541-754-4903; ltinker@getsmartoregon.org; www.getsmartoregon.org.
Grant will benefit
area humane society
Willamette Humane Society of Polk and Marion counties has been awarded a $10,000 grant from the Handsel Foundation to support the group's "Save the Felines" spay and neuter program.
The grant will cover the cost of 273 spay or neuter surgeries for cats owned by community members who receive federal or state income assistance.
For more information: 503-585-5900, Ext. 300; www.willamettehumane.org.
Chemeketa program
receives grant
A $540,000 congressionally directed grant recently awarded to Chemeketa Community College will allow the college to purchase new training equipment for its health sciences program.
The grant will be used to purchase interactive, pediatric simulation manikins, electronic infusion pumps and EKG units, X-ray and pharmacy equipment for training students in fields such as nursing, dental assisting, dental hygiene and pharmacy tech.
Much of the new equipment will be in use at the college by spring 2009, said Kay Carnegie, associated dean of the Chemeketa health sciences program.
Music competition
open to students
Music students from Polk County are eligible to apply for the Salem Chamber Orchestra's third-annual Connie Fritz Memorial Concerto Competition.
Students may apply in four divisions: strings, woodwinds/brass/percussion, keyboard, and voice.
Complete details are available online. Deadline to apply is Monday, Oct. 6.
For more information: 503-480-1128; www.salemchamberorchestra.org.