Thursday, September 18, 2008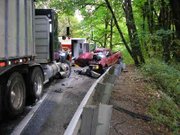 POLK COUNTY -- An 18-year-old woman was killed when the pickup she was riding in collided with a semi truck just east of Grand Ronde on Sept. 17, according to the Oregon State Police.
The incident occurred about 8:30 a.m., as Anthony Gorretta, 18, of Grand Ronde was driving an extended-cab Ford Ranger carrying three passengers -- all Willamina High School students -- eastbound on Highway 22 near Valley Junction, Lt. Gregg Hastings said in a press release.
Gorretta was negotiating a right curve when he lost control of his vehicle, crossed the center line and crashed into a semi truck driven by Raybon Dean Thompson, 38, of Cloverdale.
The right rear passenger in the pickup, Tamara L. Coila, 18, was pronounced dead at the scene. She had reportedly attended Canby High School before entering Willamina High for her senior year, Hastings said.
Gorretta was transported to Willamette Valley Medical Center in McMinnville, where he was treated for minor injuries and released.
Passengers Vincent Gorretta, 14, and Jeff Haggard, 17, both from Grand Ronde, sustained serious injuries and were taken by air ambulance to Oregon Health Sciences University and Legacy Emanuel Hospital in Portland, respectively.
All of the teens were using safety restraints, Hastings said. Thompson was not injured.
The highway was shut down for several hours. OSP was investigating speed as a contributing factor to the accident.