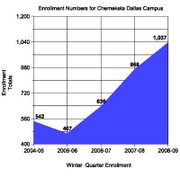 DALLAS -- As unemployment increases in the Dallas community, those out of work are heading back into the classroom.
Chemeketa Community College's Dallas Center enrollment has more than doubled since last spring, Reine Thomas, interim director at the center, said.
Chemeketa Community College's enrollment has seen a 20 percent increase in general.
"There's no doubt that we have many more unemployed students coming through the door," Thomas said.
Typically, spring term enrollment at the Dallas Center runs about 300 students. As of last week, Thomas said the head count was roughly 650 students.
This is the second full year at the new location, 1340 SE Holman Ave., next to Dallas High School, since the center moved from the Academy Building. Chemeketa has offered classes in Polk County since 1976, according to the school's Web site at www.Chemeketa.edu.
Linda Kaufmann, the student services specialist at the center, said new students are returning to school to improve basic skills and enter career training and education programs. This type of education will make them more viable in the job market, she said.
The center is working with the WorkSource Polk Center to help the unemployed get back in the classroom. Thomas said some students include those who were recently laid off by Weyerhaeuser in February and March.
"We're just trying to make the transition between work and school as smooth and painless as possible," Kaufmann said.
To handle the influx of students, Thomas said the center is offering additional placement tests and has added course sections in career and technology education. Kaufmann said the amount of advising services has also been increased.
Kaufmann helps students who come to her office and who want to know how they can complete their schooling in the shortest amount of time, she said. They also figure out how to secure funding for their education.
"One of our goals here in Polk County is to provide core classes and be a springboard and provide access (to education and services) locally," Thomas said.
However, the entire enrollment increase cannot be attributed solely to unemployment. Thomas said the close relationship with the local school district and community members' interest in furthering their education has also increased the head count.
For more information: Chemeketa Community College Dallas Center, 503-623-5567.