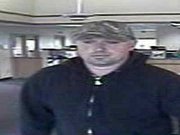 DALLAS -- A man with a silver handgun robbed the Oregon First Community Credit Union at about noon on April 16.
According to a news release from the FBI, a 20- to 30-year-old white male wearing a black ski mask and black sweatshirt walked into the bank noon and demanded cash from a teller. The bank is located at 372 E. Ellendale Ave.
He showed the teller the gun, took the money and fled in a tan-colored sedan -- possibly a Pontiac -- or a dark-blue sedan with a large pipe and loud muffler, according to witnesses.
The man is 5-feet-10 to 6-feet tall with a heavy build. He was also wearing blue jeans and carried a black canvas bag.
This was the first bank robbery in Dallas since June 5, 2007, at OSU Federal Credit Union on Orchard Drive.
Anyone with information about the April 16 robbery is asked to call the Dallas Police Department at 503-831-3516 or the FBI in Salem at 503-362-6601.