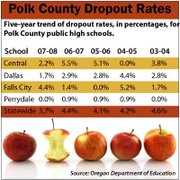 POLK COUNTY -- Most high schools in Polk County saw a decline in dropout rates last year.
That mirrors an overall decrease in high schools throughout the state, according to a dropout and graduation statistics study released by the Oregon Department of Education last week.
Nearly 6,700 of Oregon's 182,340 high school students in 2007-08 dropped out of school, a rate of 3.66 percent. That's the lowest figure since ODE began statewide reporting in 1991, the agency said.
"This report is good news for students, parents, schools and communities, and demonstrates that our efforts to reduce dropout rates and increase graduation rates are starting to pay off," said Susan Castillo, state schools superintendent.
"We must continue to build on the proven strategies and interventions we know are critical to keeping students in school and on track to graduate."
The state defines dropouts as students who withdraw from school and do not graduate or receive their GED certificate or modified diploma. The descriptions also include students who transfer to another school.
ODE did not include more specific statistics usually featured in its annual report -- such as reasons for dropping out, or dropouts per grade level -- because of limited staffing.
Dallas High School's dropout rate declined from 2.9 percent in 2006-07 to 1.7 last year, while Central High's dropout rate fell from 5.4 percent to 2.2 percent.
Beau Horn, Central's secondary education director, said the district was able to expand its alternative program and add online "courseware" for students using a federal grant in the last couple of years.
"Kids who are deficient in credits to graduate can catch up there," Horn said. "That's probably something that's kept some from dropping out."
Perrydale High School, which had a rate of less than a percent in 2006-07, had no dropouts last year.
Falls City High School's dropout rate grew from 1.4 percent two years ago to 4.4 percent last year. But because of Falls City's traditionally small enrollment figures, small variations from year to year can greatly skew report data; three among the school's 68 students last year were listed as having dropped out.