Wednesday, August 5, 2009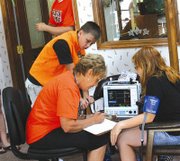 DALLAS -- Local doctors William Peffley, Gina Remington, John Hadley and Charles Essex could have been out golfing in the warm sunshine on the morning of Aug. 1.
Instead, they were at Peffley's Oregon Family Heath office in Dallas, helping give sports physicals as part of a fundraiser for the Dallas Booster Club.
"I was at a Booster Club meeting about five weeks ago," said Peffley, who came to Dallas in 2007 after serving in the U.S. Navy. "They were trying to figure out ways to raise money, asking businesses for donations. I thought we could organize a physical drive because the kids need it, and we could give all the money to the Booster Club.
"It was a way to raise money and provide a service, a two-birds-with-one-stone kind of thing."
The doctors were assisted by physical therapists Troy Hattan and Errin Chappel and certified athletic trainers Jeremy Ainsworth and Brent Darrington. The working crew also included about 25 parent volunteers, nurses and medical assistants.
About 60 physicals were performed and about $1,500 was raised for the Booster Club. About 50 "Dallas Pride" T-shirts were sold, and three new members signed up for the Booster Club. Peffley said at least one youngster was advised to seek further evaluation after the physical.
"We were hoping for $2,500," Peffley said. "As it turns out, Hope Orthopedic in Salem was offering free physicals. But I think we did pretty good with the time and the competition we had.
"Next year is going to be even better. We're going to hit it hard and get more people involved. The need is so great because because the budget cuts have killed so many things."
The Oregon School Activities Association requires that athletes in grades 7-12 get a physical at least once every two years.
The OSAA also provides a framework for the physical itself. It starts with a list of 20 questions about the athlete's personal and familial health background. Vital signs and vision are checked. There are medical an musculoskeletal examinations that cover pretty much everything from head-to-toe.
"The whole goal of a screening drive is to prevent sudden death," Peffley said. "You want to get an early detection of any physical ailment that might result in a bad health outcome. A lot of kids had heart murmurs that are undiagnosed or symptoms they have passed off as normal. We try and specifically ask about those things that can have a bad result.
"It gives reassurance to the coaches the kids have been looked at. It gives reassurance to the parents everything is OK, and those who need it will be referred for further treatment."