Wednesday, August 19, 2009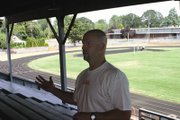 DALLAS -- If the Dallas School District's maintenance bond passes in November, there may be enough money to replace Dallas High's stadium restrooms and roof.
Still, there remains much more needed work to keep the 45-year-old stadium in safe, usable condition.
Athletic Director Tim Larson said structurally, the stadium is in fairly good shape for its age, but does need some preventive maintenance, a support beam inspection and a bit of a makeover.
Siding is separating from the walls, walkway boards are warped and loose, and the stairways are looking a little saggy. The bathrooms, district officials say, leave much to be desired. Among the needed modern amenities are stall doors.
Dallas School District Superintendent Christy Perry said the stadium was built in 1965, mostly with volunteer labor and donated money. Since then the facility has been home to countless track meets, football games, graduations and other school activities. Larson said the community is historically and sentimentally connected to the aging facility.
"It's a great stadium and I can see why," he said. "A lot of tradition."
Larson doesn't think the idea of building a new stadium would sit well with the public. However, if the stadium is to stand for years to come, Larson said it needs the kind of community support offered when it was built 45 years ago.
The Dallas Booster Club is taking on some of the less technical, but more time-consuming jobs around the stadium. Volunteers are painting, replacing boards, bracing sections and doing other minor repairs.
Dallas Booster Club President Tony Broadus said club members taking on some of the busy work allows the district's maintenance crew to focus on more pressing repair needs in the schools.
Larson and Broadus agree, the kind of repair projects the club has taken on for the stadium needs to be done now or the structure will deteriorate beyond salvaging. Broadus said given what he says are slim chances of building a new high school and stadium in the near future, letting it fall apart is not an option.
"I think we are going to be in this school for quite some time," he said. "We should make what we have really nice."