Wednesday, August 19, 2009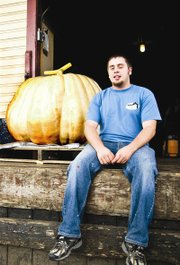 DALLAS -- Andrew Hendersen has mixed emotions about the success and failure of his prized garden oddity.
He is ecstatic that a pumpkin in his garden is the largest he has ever grown.
But he is disappointed that it won't get any larger and attain his goal of reaching 1,000 pounds or more.
"It was growing so fast, it split at the bottom," explained Hendersen. "It was starting to deteriorate, so we decided to put it on display here while it lasts."
The 550-pound pumpkin rests on a wooden pallet sitting on the loading dock at Old Mill Feed & Garden on Main Street in Dallas. With two months left in the growing season, Hendersen is confident that the pumpkin had a lot of size -- and weight -- yet to put on.
"We figure it probably would have topped out at over 1,000 pounds," Hendersen said. "It's probably the biggest vegetable ever grown inside the Dallas city limits.
"What I'm really trying to do is break the 1,000-pound mark. This one had a chance to get there."
Hendersen said there are several factors that lead to a "great pumpkin." It starts with the seed. Many of the biggest pumpkins grown in North America come from the Dill's Atlantic Giant variety. Then there is the soil and other intangibles.
"Amending the soil really well with a good quality compost really helps -- and so does a lot of tender, loving care," Hendersen chuckled.
The largest pumpkin grown in Oregon was recorded just last year, when a specimen grown by Tadd Starr of Pleasant Hill reached 1,528 pounds.
The world record pumpkin -- grown in 2007 by Joe Jutras of Rhode Island -- topped out at 1,689 pounds.
"That's what I'm working toward," Hendersen proclaimed.