Wednesday, August 26, 2009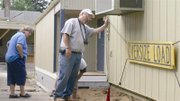 DALLAS -- Enrollment is looking up at Luckiamute Valley Charter School, forcing a quick expansion.
Last year school officials were facing budget cuts. Financial strains forced the school to move its fifth- through eighth-graders from Pedee to the main campus in Bridgeport.
"Last year saw student numbers drop midyear," Executive Director Dan Austin said. "We had to cut back and bring students to one campus."
The school hasn't completely shuttered its Pedee campus. It will be host to the school's science, art and some physical education classes this year.
The good news as school prepares to open is enrollment is heading in a different direction. Austin said student numbers jumped from around 95 last year to about 140 kids signed up to attend classes for the 2009-10 school year.
The director said the school's country setting, small class sizes and rigorous standards may explain the increase.
If enrollment continues to expand, Austin said the goal is to put students in Pedee full time again.
"How soon that happens will depend on growth," he said.
To accommodate more students, the school has had to lease a modular to hold two classrooms. So far work at the school has cost about $40,000 and much of the materials and labor have been donated.
Other changes were needed to prepare for school this year, including expanding the main building at Bridgeport to build a new office and moving a modular on site to make room for the new portable classroom.
"It's been a packed summer," School Board member Rick Bennett said. "Right up until kids come back to school, we'll be wrapping things up."