Wednesday, August 26, 2009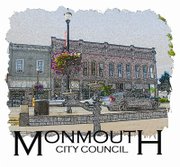 MONMOUTH -- City leaders may settle on a direction for a new city hall in the coming weeks.
One scenario entails razing Volunteer Hall to make room for another facility. Funding would come from a bond structured to take effect once the construction bond for the public library expires in a few years.
That's an option recommended by the city's Economic Development Commission, which was tasked several months ago to investigate ways to replace city hall.
"It's something the city has talked about for about four or five years now," said Eric Olsen, an EDC member, during a City Council work session on Aug. 18. "The trigger has got to be pulled at some point."
Renovating the existing building and creating a mixed-use structure with private developers were some options the EDC reviewed. Potential locations included city property on Ecols Street, currently leased for the Monmouth Indoor Park, and the old Monmouth Fire Station.
But the size of a new city hall -- a proposed 14,000 square feet within two stories -- and needed parking made Volunteer Hall the most logical site.
Building there and tearing down the current city hall would increase frontage on Main Street for other uses, and preserve the city's presence downtown, Olsen said.
"It's important for city hall to be in the core area," he said. "The amount of foot traffic it creates, even just from people paying bills, is huge to businesses."
A drawback is that the green space that sits just east of city hall would be removed, Olsen said.
A bond would be a hard sell to the public in the current economy. Local voters rejected a $4 million bond for a civic center in 2004.
The city could try for a $2 million bond in 2010, which is what's left of the public library bond, according to the EDC. At that amount, property taxes wouldn't be raised above the current amount for residents.
With Mayor John Oberst not present for the discussion, City Councilors opted to wait until September before deciding whether to further explore the recommendation.
Councilor Forrest Bell said the city shouldn't limit itself to a $2 million bond if that amount only pays for a modest upgrade of the existing facility.
In other city news:
* City Council amended its methodology for calculating system development charges, deleting ordinance language that has required the city to tabulate figures based solely on a system that dates back to 1994.
The changes were a necessity as the city plans to review and update its several outdated SDCs in the next few months, City Manager Scott McClure said.
For example, a transportation SDC related to single-family developments will increase from $394 to $3,502.