Wednesday, December 23, 2009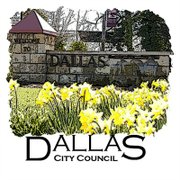 DALLAS -- The City Council on Monday, Dec. 21, approved a 4 percent salary increase for Dallas City Manager Jerry Wyatt as part of his annual performance review.
"He's done an exceptional job under some very difficult circumstances," Council President Brian Dalton said.
Wyatt said he requested the 4 percent merit increase because that was the same amount given to other city employees this year. His base salary is $114,180. With the raise, that will increase to $118,747.
Councilor David Shein noted that Wyatt's first test was a massive flood that hit the county just days after he took over as city manager on Dec. 1, 2007.
"He really hit the ground running and kept going," Shein said.
Dalton added this year has been challenging for other reasons, with budget cuts and funding sources for city programs and services drying up.
The Council also passed a proposed maintenance fee on to the final step in the approval process at its meeting.
But not before Councilor Jackie Lawson made a motion to put the fee before Dallas voters. Her motion didn't go far, as no other councilor would second it to put the motion to a vote of the council.
Councilors put the ordinance creating the fee through its first official reading Monday. They reviewed a draft ordinance at the Dec. 7 council meeting.
A final reading and roll call vote will take place at the council's next meeting on Monday, Jan. 4.
If approved, the fee would charge $2.50 per month to every housing or business unit in the city starting on July 1, 2010, and increasing $1 each year until reaching a cap of $5.50 per month in 2013. The fee assessment would be attached to city water and sewer bill. Only units receiving bills would be subject to the fee.
Unless the council takes action to extend the fee, it will end in 2020.
--
In other business, the council:
* Approved a series of ordinances implementing amendments to the city's development code. Ordinances 1709 through 1714 made changes to the Dallas city code, development code, zoning map and comprehensive plan map to bring them into compliance with the development code update completed earlier this year. Councilors passed the ordinances with unanimous votes. They will take effect in January.