Wednesday, December 30, 2009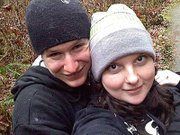 Sturm-Axford
Michelle Ann Sturm of Dallas and Marcus Kendall Axford of Monmouth are planning a January 2011 wedding.
The bride-to-be is the daughter of Donald and Jennifer Parmer of Dallas. Her fiance is the son of Hugh and Tonni Walbridge of Monmouth.
Michelle, a 2007 graduate of Dallas High School, is a certified nurses aide at Dallas Retirement Village.
Marcus, a 2008 graduate of Central High School in Independence, is co-owner of Tonni Walbridge Yard Maintenance in Monmouth.
The wedding is set for Sunday, Jan. 9, 2011, in Dallas.