Wednesday, February 4, 2009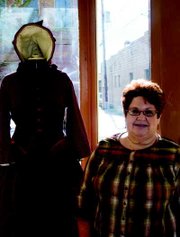 INDEPENDENCE -- Most people dream of running a business related to their favorite hobby.
Diane Bishop has two bases covered with her recently opened Ladies of Liberty Mercantile -- Fabric and Notions in Independence.
A sewing and quilting enthusiast, Bishop said operating her own fabric shop was something she's long desired to do. And that her store focuses on 19th century reproduction fabric helps feed her other pastime -- Civil War re-enactments.
"I was a child of the 1960s," she said. "Now I'm interested in the 1860s."
Ladies of Liberty opened in January, much to the delight of local quilters. Bishop, 57, said she's been told that there hasn't been a fabric store in the community since the 1970s.
"So everyone who comes in has been saying 'thank you,'" she said.
The store carries patterns, books, notions, Civil War soldiers quilts, supplies and mostly fabrics resembling what was used for clothing and quilts during the mid-1800s.
Ladies of Liberty also features a sewing room where Bishop will host sewing gatherings -- "Jo's Little Women Club" -- for the next six months.
Quilting "is a great hobby, and in the end, you have a finished product you can give to people," she said.
Sewing has been a regular part of Bishop's life since childhood. While growing up in Los Alamitos, Calif., she and her sister used to make most of their own clothes.
She moved to Oregon in the 1970s, eventually settling in the small community of Eddyville, about 25 miles west of Corvallis, in Lincoln County. It was there that she took up quilting.
"We were living on a farm," said Bishop, who today lives in Dallas. "It just felt like I needed to make a quilt."
Displayed in her storefront is a day dress she crafted after those worn during the 1860s. Bishop began making them, ball gowns, chemises and other period clothes after she and her family got involved with Civil War re-enactments 17 years ago.
She's a member of the Northwest Civil War Council, taking part in events and presentations as Mrs. Bishop, wife of Capt. Earl Bishop of the 69th New York Infantry.
"I became a history buff," she said. "I read a lot of books and naturally was really interested in the clothing and textile."
Bishop said she was approaching retirement after 13 years with the Linn County Fairgrounds last year when she decided, with her family's encouragement, to pursue the fabric store.
She enrolled in Chemeketa Community College's MERIT program, a small-business training initiative. And it was actually through a fellow re-enactor -- Independence Librarian Robin Pucetti -- that she heard about the available space for rent on C Street.
She and her husband worked from September through December painting and preparing the store for its opening last month. She's had a steady stream of customers since then, she said.
"I love the historical feel of this town," she said. "Once I got here, I fell in love with it."
Ladies of Liberty is located at 130 C St. and is open 9:30 a.m to 5 p.m, Monday through Saturday. For more information: 503-837-0676 or www.ladiesoflibertysewing.com.