Wednesday, February 4, 2009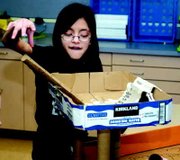 DALLAS -- Sixth-graders at LaCreole Middle School are lucky.
Rather than learning about physics strictly from textbooks and drawings on an overhead projector, they are designing and building towers, ramps and chutes out of cardboard and masking tape as part of a skateboard science project.
"We're learning the mechanics-law thingy," Mosier Locke said with a big smile.
For about three weeks, three sixth-grade science classes have been working on the project. Teacher Abra McGuffey's class is in the beginning phase. Her students are working on their plans for the skate park models and earning construction points by participating in class and turning in scientific observation logs.
Classes taught by teachers Pam Haerer and Shayla Edwardson are now in the building phase. For about 45 minutes each class, the students break up into small teams to work on their two-story cardboard skate park models.
Edwardson said this is the second year she has done the project. She said the approach of having the students make the skate parks helps them better understand the physics of motion.
In Edwardson's class, students sat on tables talking excitedly about how best to construct the obstacles out of toilet paper and paper towel rolls, masking tape and cereal boxes.
The team builds ramps, chutes and other mechanisms to create a path and sends a marble through the course to watch how it travels. The marble serves as a model for a skateboard.
Haerer's class used straws and hot glue guns in addition to the other materials. One group of young ladies had constructed an elaborate course that their marble glided through effortlessly.
The students will receive a grade for their work when it is complete.
Mosier said he learned that adding a lot of tape to one section of the course in the tower can reduce the speed the marble travels due to the friction.
Teams get ideas by looking around the room at their peers' projects and take pieces on and off to gauge different effects on the marble. However, ideas do clash.
"Sometimes we get angry with each other," Mosier admitted. But no wars over ideas were waged on this particular day.
Students liked the project because they could call it their own.
"It's hands on," Aleece Yager said. "You're creating your own thing and not reading about something somebody else made."