Tuesday, February 10, 2009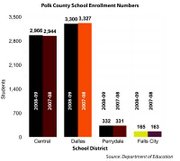 POLK COUNTY -- Overall enrollment in Oregon public schools dropped slightly in 2008-09 from the previous year, the Oregon Department of Education said.
Counts by school districts and education service districts revealed Oregon had 564,044 students as of October 2008, according to an ODE report released last week.
That's 713 fewer students than the same time in 2007-08. Large school districts, such as those in Portland and Eugene, showed declines of about .5 percent and 1.3 percent, respectively.
The four school districts in Polk County, meanwhile, showed little variation during that period, with a combined 6,763 students compared to 6,765 last year.
Central School District grew by 22 students to 2,966. Perrydale is at 332, one student more than last year. And Falls City grew by two to 165.
Dallas' total is 3,300, 27 less than in 2007-08.
Along with general headcount figures, the report also examined enrollment trends of students by ethnicity.
White student enrollment decreased by 1.4 percent statewide, while students with multiple ethnic backgrounds saw a 22.5 percent jump.
Hispanic student enrollment across Oregon grew 2.6 percent to 97,296, ODE said. Hispanic enrollment at Central -- which has the largest percentage of Hispanic students among county districts at 37.6 percent -- saw less than a percent of growth for that subgroup.
Dallas' Hispanic population rose by 27 students, or 11.6 percent. White student enrollment dropped by 1.6 percent.
For more information: www.ode.state.or.us.