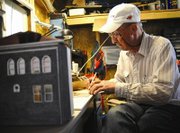 DALLAS -- Bob Taylor is crazy about models.
Models of buildings that is, and especially of those in downtown Dallas.
Taylor, 79, is so nuts about making replicas of historic downtown structures that he spent three months putting together a miniature duplication of the 800 block of Main Street. The model features the facades of the old Blue Garden restaurant and World Gym buildings, complete with street lights and trees.
Taylor isn't keeping the project hidden away, though. He donated his handiwork to the Polk County Historical Society after putting it on display at Art in the Park July 26 at Summerfest.
Taylor's wife, Joan, started her husband's replica fever earlier this year when she brought home a painting of a ghost town and a miniature version of an old West boom town street she found in Arizona. The replica hangs on the wall of their Dallas home and some of his first models were based on the painting.
"I've been a fan of the old West and old buildings," he said.
He puts a little humor into some of his work, too. One model is of a law firm named Dewey, Cheatum & Howe.
Most of his models take about four or five days to finish, some up to a week if they are more complicated replicas. Taylor said his downtown street was by far the most time consuming.
His version of Main Street doesn't go back to the old West, though. He wanted to re-create the buildings that were there in the late 1800s, but couldn't find what he felt were accurate depictions. Instead of 1890s, he opted to go with 1990s. From his research, Taylor said not much has changed in more than 100 years on that block. Some windows have been moved and plaster laid over old brick, but otherwise many of the details are the same.
Joan Taylor said she is in awe of her husband's patience and talent. She said he spends hours making each detail perfect. He uses limbs from bushes to make trees, toothpicks for wheel spokes and will resort to cutting up pop cans if he can't find a piece of aluminum to fit what he needs.
Taylor said he won't replicate all of downtown, but will keep working on landmarks, such as the old county courthouse.
Joan Taylor said her husband's projects have gone far beyond just a hobby.
"I thought he was only going to make one," she said. "I didn't know is was going to be dozens."