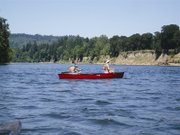 INDEPENDENCE -- The Willamette is a lazy river in the summer. It seems to linger in deeper pools and nonchalantly drift through its widest places.
But don't be fooled. When you least expect it, the gravelly bottom of the 13th largest river in the lower 48 states can come up and bite the bottom of your canoe, or a sudden bend in the river can turn surprisingly fast and narrow.
I've canoed the Willamette between the Buena Vista Ferry and Independence more times than I can remember in the past 20 years. And each time I go, something surprises me.
This July, canoeing with my brother Bruce and his family from Jennings Lodge, it was no surprise that we managed our requisite sunburns, or that our rowing muscles were sore due to lack of attention. The dozens of heron, osprey, killdeer and even an eagle sighting along the trip -- that was no surprise, although when herons come squawking up off the bank with their long wings flapping, it's a little startling, in an awesome way.
The surprise was about halfway along the 10-mile trip. Around a bend, we passed a disaster that served to remind us of the deadly power of this seemingly calm river. We had just negotiated a rough spot in the river that to us was only mildly thrilling. After all, my brothers and I had grown up floating the rapids of the Umpqua River in inner tubes. And as we joked about the tininess of these "rapids," we saw in the distance two women sitting on the bank, life jackets on, looking a bit beat up.
"Are you OK?" I asked them, paddling near the shore. They told us they had floated too close to an overhanging branch while negotiating the current we had just ridiculed. The branch and the river had ripped their raft out from underneath them and they were thrown into the river. They swam to shore. Luckily, a Jet Ski rider had passed by and was just then retrieving their boat, so they didn't need our help.
It was a sober moment in our otherwise languid journey full of laughter, a few paddling songs (Queen's "Bohemian Rhapsody" got everyone going), and a lot of wildlife.
My family's biggest laugh was at my expense. We had stopped for a rest and a swim at the American Bottom park about an hour into our trip, the first of two swim stops to cool off on the 90-degree day we chose for this outing. I was up to my shoulders in the cool water, chatting with my son, John, describing the current like a cool massage on my back. Just as I said that, my son points at me and says, "What is that on your back, anyway?"
As I jumped aside, a belly-up sucker (my nickname for the Northern pikeminnow, a native relative of the carp) slithered off of my back, and into the midst of my family of bathers. Squealing nieces Aimee and Aubrey splashed ashore. There were lots of "icks" and "ews" as the big-scaled, white fish floated slowly away on its last trip downstream. The laugh was on me, literally. My husband heard the story and wouldn't let me come to bed until I had showered -- twice.
Most of our fish sightings were of the live kind. Schools of small fry darted in sandy and gravelly shallows. Occasional splashes upstream let us know there were fish ahead. My brother Bruce wished out loud that he had brought a fishing pole.
With the stops to swim, it took us about three hours in early July to get from Buena Vista to Independence's Riverview Park. As the river gets lower and slower, this time could expand, depending on a person's energy and willingness to paddle. Strong paddlers, not me, who want to hurry could have done it in half the time. But I suggest you take your time. This is one trip you'll want to enjoy.
TRIP GUIDE
Directions:
Put in at the Buena Vista Park, a Polk County park, off of Buena Vista Road. Via roads, Buena Vista is about 7 miles south of Independence. Via river, it's 10 miles. Follow signs to the ferry. The park is just upstream, south on Park Street. If you have a driver, have them meet you at Riverview Park in Independence in three or four hours.
River mile 107 to 105
-- In the summer months, stay to the right of Wells Island, the mile-long island that starts immediately after the ferry. There are trails on the island, and you can camp -- it's an undeveloped county park. More developed is the American Bottom campground. You will see the sign on the left, after Wells Island. It usually has bathrooms, picnic tables and fire pits.
Miles 104 to 100
-- Generally, it's a safe bet to stay right of the islands you come upon, because most of the time you are on a long, slow east then west bend in the river around American Bottom.
Mile 99
-- The one exception to the "stay right" rule is the fourth island, the last island before the bridge at mile 96, Independence. Both channels were fine, but the left channel was faster and deeper.
Mile 95.5
-- Take your canoe out at Independence Riverview Park.
Accommodations:
Buena Vista Park and Riverview Park have bathrooms, picnic tables, shade, boat ramps, docks and more. In addition, camping and picnic facilities are available along the way, although the parks are mostly undeveloped. Wells Island, American Bottom and DSL Island and Judson Rocks have primitive camping areas or better. Bathrooms are scarce. Picnic tables and fire pits are available in some camp sites.
Access:
Buena Vista and Riverview parks are accessible by car, truck or bike. Launch and takeout is easy. This is an easy trip in the summer -- one suited for any age, but not for non-swimmers. Families will enjoy this.
Water depth/temperature:
The Willamette is cool but not cold. It is shallow in places. Mossy weeds grow along the slower channels. Depth in the channels can be as shallow as a foot or two. Tubing the entire 10 miles is not recommended, however. Tubing can be slow and cold.
Nearby:
There are plenty of things to do in both Buena Vista (Wings of Wonder, Buena Vista Ferry, Buena Vista House) and at the other end, in Independence. As you land in downtown Independence, you might plan to buy dinner, have a drink, a scoop of ice cream or just window shop -- all within two blocks of your landing.
Trip Hazards
I highly recommend to any boaters, experienced or not, the "Willamette River Water Trail Guide," available at www.willamettewatertrail.org or by calling Willamette Riverkeeper at 503-223-6418. The guides are free online, or $15 for both, if you want a printed guide that describes and maps the river mile by mile from Eugene to Portland. It is full of helps and hints, descriptions of wildlife, notes about water quality and paddling safety. Among the notes in this excellent guide:
* Wear your lifejacket! It's not just a great cushion for those hard canoe seats. It can also save your life if it's on your body.
Per state law, "No person shall operate a boat on Oregon waters with a child age 12 and under unless the child is wearing a U.S. Coast Guard-approved personal flotation device/life jacket of the appropriate size while the boat is underway. Children on an open deck or cockpit of sailboats, motorized and non-motorized vessels (canoes, kayaks, rafts) underway must wear a life jacket at all times.
* Currents and water levels are unpredictable, so don't be fooled by calm-looking water. Gravel bars, common in the summer, can pose a serious risk to unwary paddlers, tipping canoes and contents into the river. Also watch for overhanging branches, snags and stumps -- called "strainers" for their ability to strain you right out of your boat.
* Watch for power boats and Jet Skis. It's best to stay to one side or the other while canoeing, but if you have to cross, watch out for these occasional motorists.
* Sunburns and hydration -- Protect your skin and your eyes. Take water or juice. Don't drink from the Willamette. Stay alert by not drinking alcohol.
* Plan your trip, leave no trace, respect private property and be sure someone else knows your tentative plans before you leave. Don't go alone.