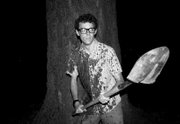 DALLAS -- A Dallas High School alumni is featured in an independent horror and comedy film showing in Salem June 19.
Patrick O'Driscoll graduated from Dallas High in 2004. He graced the stage in Dallas productions beginning in his sophomore year and is set to graduate from the University of Oregon this summer. His time on Dallas' stage prompted him to study theater and digital arts, he said.
O'Driscoll had acted in a few short films with students from his university, but this is his first independent film.
"I'm really pleased with it -- it was a really inspiring process," O'Driscoll said.
The film, "Melvin," will be shown at the Northern Lights Theater and Pub in Salem on Friday, June 19, at 9:30 p.m.
The film's director, Henry Weintraub, said he saw O'Driscoll in a zombie adaptation of "Hamlet" at a community theater in Eugene. He was so impressed by the performance, Weintraub altered his script for the actor.
"He was really good in the play -- he had a look," Weintraub said.
Weintraub, 28, has been writing, directing and producing independent films in Eugene for six years.
"Melvin" is a story about Norton, a nerdy college student enlisted by a zombie corpse to get revenge on the corpse's murderers. There is an abundance of fake blood and many comedic moments.
O'Driscoll said his character is socially awkward and self-conscious -- not a real challenge for him.
"If there's anything I'm good at, it's being awkward around people," he said.
He jumped at the chance to play the character and add a full-length film to his resume.
Shooting began at the end of July 2008 and wrapped early this year. Most of the scenes were shot at the University of Oregon and around Eugene.
"Melvin" is the first of Weintraub's feature-length films. He is now concentrating on getting it shown in different cities all over Oregon, including Eugene, Salem and Portland. He hopes to have it shown one day in film festivals and be available in video stores.
"We're trying to spread it around as much as possible," Weintraub said.
After graduating this summer, O'Driscoll said he will remain in the Eugene area to keep working with Weintraub.
For more information about the film, visit www.531productions.com.