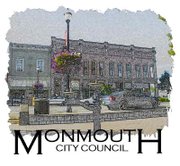 MONMOUTH -- Town leaders are resurrecting discussion of building a new City Hall.
Monmouth's Economic Development Commission (EDC), an advisory board to the City Council, recently recommended pursuing a bond in five years to build a 14,000-square-foot structure on Warren Street.
The existing City Hall property, meanwhile, would be razed and made available for commercial use, according to the plan.
"A close proximity to where City Hall currently is is the best location," said EDC member Larry Dalton. "And moving it off Main Street allows for the best use ... of that ground."
Residents voted against a $4 million general obligation bond in 2004 to construct an L-shaped civic center that fronted Main and Warren streets to replace the existing 5,000-square-foot City Hall.
The new EDC concept proposes a two-story structure based on the original civic center design that's two-thirds the size. It would be built where Volunteer Hall currently sits off Warren Street, Dalton said.
Discussion with developers places the cost for a new building at roughly $2.1 million.
Dalton said serious discussion of a new City Hall dates back to 1999, and that in the decade since, "there hasn't been much economic development downtown."
"We're still facing the same thing now, and that's how do we get development going," he said.
Seeking a general obligation bond would be simpler than a lease-buy option with a developer, as was explored with the now-abandoned Main Street Park Plaza project in 2007, Dalton said.
The city would submit a bond measure in 2012 and structure it so it takes effect when an existing bond to fund the Monmouth Public Library expires, according to the EDC recommendation.
"This way, there would be no increase in taxes from what people pay now," Dalton said.
City Manager Scott McClure said councilors will examine this and other options for City Hall, and try to settle on a direction before the end of 2009.
In other city news:
* City Council agreed late last month to pledge the full faith and credit of the city to guarantee a three-year, $3 million revenue bond sought by the Monmouth-Independence Network (MINET).
MINET has used a line of credit from Key Bank -- with the backing of Monmouth and Independence -- to help cover operating expenses since 2006.
MINET's multi-year bond will now replace the credit line, which had to be authorized by the city annually.
"The new product is not an addition to the former lines of credit and does not add another $3 million to our indebtedness," McClure said.