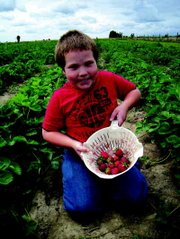 POLK COUNTY -- It's officially summer and Polk County residents are grabbing buckets and donning their grubby clothes for U-Pick fun in the sun.
Hidden behind a beautiful Victorian-style green home off Highway 99W between Rickreall and Monmouth, children and adults are on their hands and knees in the dirt of a strawberry patch.
"They trust in locally grown (produce) and bring their families to have fun," Jay Thoa, who manages the small shop at the Country Orchard U-Pick, said.
Pink flags around the fields showed customers which fields are U-Picks. Thoa said many visitors have already stopped by the strawberry fields since the U-Pick opened June 10. By 11 a.m. one recent morning, he already had 10 people come through on a berry-seeking mission.
Out in the field it was easy to tell Carolyn Bowers of Dallas was on such a mission. She was picking berries like a pro to make strawberry jam and pie for Father's Day. Bowers said she goes to the U-Picks in the county at least once a year for strawberries, blueberries, raspberries and pears.
"It's kind of a release and brings back a lot of memories of my childhood," Bowers said. "Fresh and sweet right off the vine -- there's nothing that can beat that."
She used to pick blueberries in the summer to earn money for new school clothes in her youth. With her knees in the dirt that day, Bowers said the best clothes for U-Picking are her "grubbies" -- her work clothes.
A group of three young adults from Corvallis -- Kelly Behne, Tyler Gordon and Rainie Gordon -- were doing more laughing than picking. They were on a strawberry jam mission, but mostly enjoying the sunshine for the hour they spent in the fields.
Behne said often her legs do get tired and cramped from picking the berries down on the ground. But, the berries are less expensive than store-bought ones and fun to eat afterward.
Nine-year-old Nathan Reynolds lives in the beautiful home at Country Orchard and was excited to receive the OK from his mother to spend some time in the berry patch. He said one must look for berries without any holes that could mean the berries had been visited by birds or bugs.
While having to touch the "icky berries" is sometimes unpleasant, he loves picking his own to fill a big bowl in his kitchen for snacking.
"It's not very hard -- you just have to get dirty," Reynolds said.
Several Polk County U-Picks offer strawberries this time of the year because of how easy they are to pick, Bruce Pokarney, spokesman from the Oregon Department of Agriculture said.
"Of the types of crops that lend themselves (to U-Picks), berries are the most popular," Pokarney said.
Carrots and some salad vegetables are best harvested by professionals or machines, he said.
The hydroponically grown strawberries at the Airlie Hills Family Farm are so easy to pick in their large columns, the greenhouses are even wheelchair and walker accessible, owner Aaron Kennel said.
"It's nice because (those who are movement challenged) can't otherwise pick," Kennel said.
Kennel said he often has tour groups of all kinds of people through his greenhouses because his berries are easy to pick.
However, some U-Picks do offer customers a large variety of fruits and vegetables.
Claudia Huntsinger at Country Pantry and Nursery in West Salem has 80 hills of potatoes, 200 heirloom tomato plants, eight different kinds of basil, and many unique vegetable varieties such as purple beans, purple carrots and purple tomatoes.
"I have some stuff other U-Picks don't have," Huntsinger said. "I've just kept expanding."
Huntsinger accepts WIC and Senior Nutrition coupons because she knows times are tough and U-Picks offer local produce at low prices.
Pokarney said U-Picks are great for farmers because they don't have to deal with a middle man to sell their produce or hire pickers. Customers reap the benefits of the lower costs. Strawberries in Polk County are running $1.50 to $2.75 per pound.
But what has really made U-Picks boom is the local food movement, Pokarney said.
"People really want local," he said. "They're more aware of what the local agriculture can do for the economy. And if they know where it comes from -- they feel better about eating it."
Pokarney attributes this movement to the boom of farm-direct buying such as U-Picks and farmers markets. He said while he had no specific numbers on U-Picks themselves, there were 10 farmers markets in Oregon 15 years ago. Today, there are more than 90 in operation.
For more information about farm-direct buying and U-Picks, contact the Oregon Department of Agriculture at 503-986-4559 or http://oregon.gov/ODA.