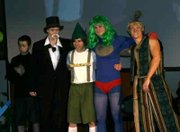 DALLAS -- After a tabulation error, it was announced Monday that the true winner of Dallas High School's 2009 Mr. Dallas pageant is senior Morgan Gentry and not senior Parker Stewart, who was initially crowned the winner on Saturday.
March 14 was a night filled with young men strutting their stuff in leotards and tights, future rock star hopefuls and even a public prom invitation.
A panel of judges met to decide which contestant was worthy of winning the annual pageant.
"I've been delighted," said Stan Butterfield, Polk County District Attorney and one of five contest judges. "I'm amazed at the talent here."
In the first round, each class competed in a video and skit category. Freshmen Ethan Noll and PJ Vanbibber battled in the hallways of DHS for the Mr. Dallas crown and poked fun at police officers. Sophomores Shane Mathews, Matt McCammon and Josh Brockway parodied popular films like "Lord of the Rings." Juniors Nick Bemrose and Jordan Tom did a lip sync to "Afternoon Delight" and presented stunning cowbell-playing skills. And seniors JC Bowen, Stewart and Gentry beat up former Mr. Dallas Todd Workman and did a cheer in cheerleading uniforms.
The talent competition proved that the young men are talented and creative. The most memorable talents were Mathews, who played "The Pink Panther" theme song dressed head to toe in pink; Bemrose, who rocked out on the drums; Bowen's wooden clog routine complete with jumping heel clicks; and Stewart's mimic of Beyonce's latest video dance moves in a singlet.
Six semifinalists -- Noll, Bowen, Mathews, Stewart, McCammon and Gentry -- next modeled in the swimsuit category.
Swim trunks were accompanied by turtle shells, Michael Phelps attire, or ditched completely to dress up as Noah with a cardboard ark full of animals and a raw egg-eating Nacho Libre. Stewart did a strip tease out of a pink birthday cake.
The boys' ideas of formal wear also varied greatly. Mathews came out in a top hat with a monocle, Gentry promoted recycling and defeated an SUV in a Captain Planet skit.
"The power is yours!" Gentry reminded the crowd in his purple tights.
Stewart was carried in on a platform dressed as Aladdin and threw out chocolate coins.
The competition was part of the school's Doernbecher Week to support the Portland children's hospital and contestants raised $6,000 overall.
In the last round, Mathews, Stewart, McCammon and Gentry answered questions for the title about their favorite cartoons and their best quality.
"(The best cartoon is) 'Spongebob Squareness,'" McCammon said. "It really inspired me and probably made me do Mr. Dallas too."
The most heartfelt answer came from Gentry on his best quality.
"My best quality is my inability to be nervous," Gentry said. "(In the end,) I know it's all for Doernbecher."
Awards were presented after the scores were tallied. Gentry took the award for Most Entertaining and Bowen won Mr. Congeniality.
That night, the big trophy went to Stewart for his fundraising and courage to dance in a unitard. Workman gave Stewart the trophy and bowed down at his feet to cheers from classmates and community members.
However, Dallas High Principal Keith Ussery said a tabulation error was discovered and Gentry and Stewart were offered the chance to share the title. However, Stewart declined sharing the award because he believed Gentry was the true winner.