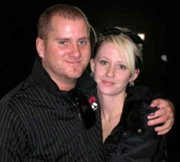 Andersen-Carter
Krista Andersen of Salem and James Carter of Salem are planning a December wedding.
The bride-to-be is the daughter of Tim and Jeana Nipp of Salem and Rob Andersen of Dallas. Her fiance is the son of Kenn and Esta Carter of Dallas.
Krista, a 2002 graduate of Dallas High School, is studying pre-nursing at Chemeketa Community College. She plans to transfer and attend Oregon Health and Sciences University. She is assistant manager at Zuniez in Salem.
James, a 1998 graduate of Apple Valley High School in California, is a 2007 graduate of Linn-Benton Community College with a degree in environmental technology. He is a drinking water treatment technician at Veolia Environmental Services in Wilsonville.
The wedding is set for Saturday, Dec. 19, at Dallas Christian Church.