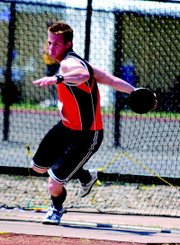 EUGENE -- Parker Stewart of Dallas took second in the discus May 22 in the Class 5A State Track Meet at Hayward Field in Eugene.
Stewart's best throw at state measured 158 feet, 9 inches. Josh Peck of Mazama won the event with a mark of 159-11.
Stewart had the best discus throw this season in 5A, a toss of 170-2 May 1 in the Dean Nice Invitational in Gresham. He was hoping for a repeat performance at state. It didn't happen.
But Parker was neither crestfallen nor dejected with second and not first place. He has uncommon perspective for someone who has yet to see his 20th birthday. You see, it was only one short year ago when Stewart was fighting for his life after he was accidentally hit in the head by a discus thrown by a teammate during practice.
"I feel I could have done better," Stewart said. "But I'm not really upset. I was thinking I was going to do better at state, but I was happy that I did go to state."
Stewart was forced to wear a new pair of shoes at the state meet after his old pair came to an untimely demise.
"My shoes fell apart," he said. "They were old. I had used them for four years. I had worn them in. They fit like a glove, just like a mitt. You wear them and get used to them. They're like your best friends.
"I bought a new pair on e-Bay and had them shipped pretty fast so they'd be here for state. I had one day to practice in them. They were all right. I ended up using them for the six throws at state, and I threw my old shoes away."
Stewart's best throw at state came on his first attempt.
"A lot of them were in the 150s," he said. "I got nervous after the guy beat me by a number of inches, 11 inches I think. I felt like I had to break something out. It gave me a little bit of the nerves."
After the accident, Stewart was placed in a medically induced coma. He had 21 lines coming out of his body, attaching him to 11 different machines. His parents were told that if he ever came out of the coma, he'd be paralyzed and have brain damage.
It was a grim assessment indeed. But Stewart has proven doctors aren't always right. He came out of the coma. He learned to walk and talk again. He regained his full memory. He now as a plastic alloy plate in his head, but there is no brain damage. His weight, which dropped from 180 pounds to 130 after the accident, is back to a robust 190.
"They named me their 'Miracle Patient' at Salem Hospital," said Stewart, who plans to continue his athletic career at Western Oregon. "I don't take things for granted as much. I consider myself extremely lucky. It's increased my faith in Jesus Christ, and I know that prayers work. I had churches all across the nation praying for me. I don't know what would have happened had it turned out the way the doctors thought."
Lexi Pola of Dallas also capped off her senior season in fine fashion at Hayward Field. Pola, making her fourth trip to state, took third in the long jump with a leap of 35-2.25. She also ran eighth in the 200 with a time of 26.27 seconds and was sixth in the 400 in 1:00.00.
Pola previously had run sprints by only started triple jumping this season.
Dallas' Barbara-Jane Lerwick placed seventh in the high jump with a personal-best leap of 4-11.
Jasmine Havig of DHS made her first trip to state and took fifth in the javelin with a throw of 118-4.
"Jasmine has come a long way," DHS coach Brodie Unger said. "Last year, she had one bad throw at district, and it totally got her out of her mind-set. This year, she came in determined to not let one bad throw or one bad meet throw her off. She came on like gangbusters at the end of the season.
"Looking back, I'm really proud of our team. I consider myself lucky to have coached these kids. They work hard, and they do what they're asked to. More importantly, they're fun people and they do things the right way. This probably is the most rewarding season I've had as a track coach."